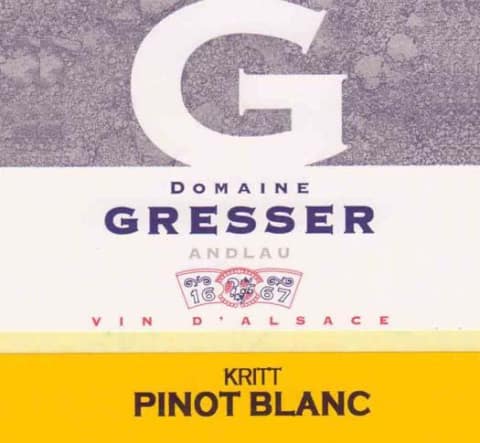 Domaine Remy Gresser Kritt Pinot Blanc 2008
Rémy Gresser's imposing appearance and deep voice belie his gentle demeanor, which is wholly evident in his delicate wines. Representing a long line of winemakers in the village of Andlau in the Bas-Rhin, Domaine Rémy Gresser dates back to 1520, beginning with Thibault Gresser, a viticulturist and appointed provost of Andlau.
Today, Rémy oversees 35.5 acres with extremely complex geology. He produces exciting wines of great purity and expression due to the soil from which they come. His three Grands Crus, for example, are very different in style. Wiebelsberg is the largest Grand Cru, and its sandstone gives very floral, lively Rieslings. Moenchberg, on granite and fossil limestone, produces succulent wines. And Kastelberg, a unique terroir on Steige schist, produces some of Alsace's most exciting wines, loaded with minerality. His other crus are Brandhof (limestone), Duttenberg (clay-marne) and Kritt (gravelly soil).
A biodynamic grower with a wealth of knowledge about Alsatian wines, Rémy creates his wines in a dry style, making them very versatile and perfect companions to both spicy recipes and meatier fares.
With its fairytale aesthetic, Germanic influence and strong emphasis on white wines, Alsace is one of France's most unique viticultural regions. This hotly contested stretch of land running north to south on France's northeastern border has spent much of its existence as German territory. Nestled in the rain shadow of the Vosges mountains, it is one of the driest regions of France but enjoys a long and cool growing season. Autumn humidity facilitates the development of "noble rot" for the production of late-picked sweet wines, Vendange Tardive and Sélection de Grains Nobles.
The best wines of Alsace can be described as aromatic and honeyed, even when completely dry. The region's "noble" varieties, the only ones permitted within Alsace's 51 Grands Crus vineyards, are Riesling, Gewurztraminer, Muscat, and Pinot Gris.
Riesling is Alsace's main specialty. In its youth, Alsace Riesling is dry, fresh and floral, but develops complex mineral and flint character with age. Gewurztraminer is known for its signature spice and lychee aromatics, and is often utilized for late harvest wines. Pinot Gris is prized for its combination of crisp acidity and savory spice as well as ripe stone fruit flavors. Muscat, vinified dry, tastes of ripe green grapes and fresh rose petal.
Other varieties grown here include Pinot Blanc, Auxerrois, Chasselas, Sylvaner and Pinot Noir—the only red grape permitted in Alsace and mainly used for sparkling rosé known as Crémant d'Alsace. Most Alsace wines are single-varietal bottlings and unlike other French regions, are also labeled with the variety name.
Approachable, aromatic and pleasantly plush on the palate, Pinot Blanc is a white grape variety most associated with the Alsace region of France. Although its heritage is Burgundian, today it is rarely found there and instead thrives throughout central Europe, namely Germany and Austria, where it is known as Weissburgunder and Alto Adige where it is called Pinot Bianco. Interestingly, Pinot Blanc was born out of a mutation of the pink-skinned Pinot Gris. Somm Secret—Chardonnay fans looking to try something new would benefit from giving Pinot Blanc a try.
ZZZREFPRODUCT383724
Item#
383724