Domaine Carneros Cuvee de la Pompadour Brut Rose
Ships today if ordered in next 8 hours
Limit
0
bottles
per customer
Winemaker Notes
The Domaine Carneros Cuvée de la Pompadour Brut Rosé, celebrates the life and times of Madame de Pompadour (the great courtesan and mistress of Louis XV) who is credited with introducing Champagne to the court and was an influential tastemaker in the matters of art, architecture and philosophy–famous for her comment, "Champagne is the only wine a woman can drink and remain beautiful."
Domaine Carneros Brut Rosé is a wine of great balance, emphasizing fruity and floral characteristics to a greater extent than evident in the Brut or Le Rêve. It is made strictly with artisan attention to quality, with sourcing exclusively from Carneros and the use of time-honored Champenoise methods of production. A blend of 58% Pinot Noir, 42% Chardonnay, the Brut Rosé is meant to be enjoyed at a fairly young age, when the fruity character is still predominant yet there is enough age to make the wine round and balanced.
The wine's aroma has hints of wild strawberries and roses with notes of peach Although a pale pink in color, Brut Rosé is not sweeter than our other wines. It is a true Brut.
Critical Acclaim
All Vintages
Lovely rose petal and strawberry aromas combine with bright, steely watermelon, graham cracker and lemon flavors that finish with zing. Drink now.
From estate-grown Pinot Noir and Chardonnay, this sparkler is dry, nutty and spicy, with a creaminess of brioche and baked apple. In the glass it evolves to show high-toned acidity and a freshness of citrus, with grainy texture adding to its complexity.
59% Pinot Noir; 41% Chardonnay. If by no means lacking in the yeasty richness of defined champenization, the current Cuvée de la Pompadour takes its lead from exuberant, fresh cherry fruit and shows off its solid Rosé credentials with a fine sense of vinosity and a bit of extra palatal weight. It is rich, full and foamy with a decidedly creamy, very long-lasting mousse, and its ample flavors are free of evident sweetness. It will work famously with food owing to the slight finishing grip expected of its genre, but it is never outwardly astringent and is thoroughly enjoyable on its own.
Organically grown pinot noir from the Domaine Carneros estate forms the base of this pretty rosé. It spent several days on the skins before pressing, offering up clean red fruit flavors that suggest fresh strawberries at peak ripeness. The result is a clean, juicy, crowd-pleasing sparkling wine to keep on hand for the holidays. (3,800 cases)
View More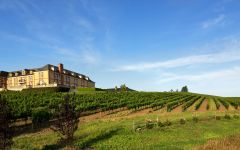 A joint venture between Champagne Taittinger and Kobrand Corporation, partners who are perfectionists in their fields, Domaine Carneros has established itself since its inception in 1987 as one of California's finest producers of premium quality, methode traditionelle sparkling wines. The inspiration for Domaine Carneros belongs to Champagne Taittinger; the first glimmerings of the concept were shaped in the mind of Claude Taittinger in 1947. The 138 acre estate is situated in the Carneros appellation of Northern California, a 36,900 acre viticultural area which straddles the border between the Napa and Sonoma counties at their southern extremity. The estate's vineyards extend up a slope rising to a crest overlooking San Francisco and San Pablo Bay, with an elevation of 120 to 260 feet above sea level.
Known for elegant wines that combine power and finesse, Carneros is set in the rolling hills that straddle the southernmost parts of both Sonoma and Napa counties. The cooling winds from the abutting San Pablo Bay, combined with lots of midday California sunshine, create an ideal environment for producing wines with a perfect balance of crisp acidity and well-ripened fruit.
This cooler pocket of California lends itself to growing Pinot Noir, Chardonnay and Syrah. Carneros is an important source of sparkling wines made in the style of Champagne as well.
What are the different types of Champagne and sparkling wine?
Beloved for its lively bubbles, sparkling wine is the ultimate beverage for any festivity, whether it's a major celebration or a mere merrymaking of nothing much! Sparkling wine is made throughout the winemaking world, but only can be called "Champagne" if it comes from the Champagne region of France and is made using what is referred to as the "traditional method." Other regions have their own specialties—Crémant in other parts of France, Cava in Spain and Prosecco in Italy, to name a few. New World regions like California, Australia and New Zealand enjoy the freedom to make many styles, with production methods and traditions defined locally. In a dry style, Champagne and sparkling wine goes with just about any type of food. Sweet styles are not uncommon and among both dry and sweet, you'll find white, rosé—or even red!—examples.
How is Champagne and sparkling wine made?
Champagne, Crémant, Cava and many other sparkling wines of the world are made using the traditional method, in which the second fermentation (the one that makes the bubbles) takes place inside the bottle. With this method, spent yeast cells remain in contact with the wine during bottle aging, giving it a creamy mouthful, toasted bread or brioche qualities and in many cases, the capacity to age. For Prosecco, the carbonation process usually occurs in a stainless steel tank (before bottling) to preserve the fresh fruity and floral aromas imminent in this style.
What gives Champagne and sparkling wine its bubbles?
The bubbles in sparkling wine are formed when the base wine undergoes a secondary fermentation, which traps carbon dioxide inside the bottle or fermentation vessel.
How do you serve Champagne and sparkling wine?
Ideally for storing Champagne and sparkling wine in any long-term sense, they should be at cellar temperature, about 55F. For serving, cool Champagne and sparkling wine down to about 40F to 50F. (Most refrigerators are colder than this.) As for drinking Champagne and sparkling wine, the best glasses have a stem and flute or tulip shape to allow the bead (bubbles) to show.
How long does Champagne and sparkling wine last?
Most sparkling wines like Prosecco, Cava or others around the "$20 and under" price point are intended for early consumption. Wines made using the traditional method with extended cellar time before release can typically improve with age. If you are unsure, definitely consult a wine professional for guidance.