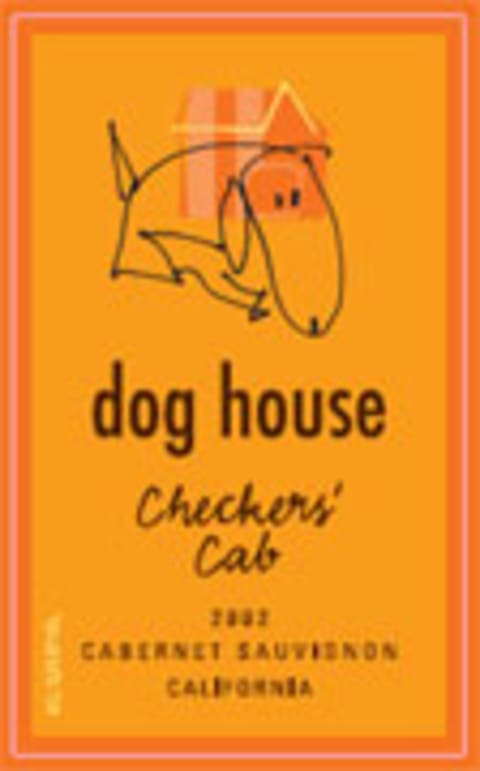 Dog House Checker's Cab 2002
Winemaker Notes
This big dog is power-packed, yet elegant with full flavors of dark berries, California Pepperwood and mint. Juicy aromas of elderberry and cherry cola expand to layers of pepper and molasses in the glass. A delicate but firm tannic structure offers a full mid-palate and a lingering finish.
The grapes used in Dog House wines are sourced from the best of California's cool-coast growing regions. Winemaker Fritz Meier uses state-of-the-art winemaking and blending techniques to create wines that are approachable, fruit-forward and delivered with mouth-filling flavor and consistency.
A percentage of the cost of each bottle is donated to Guide Dogs for the Blind, a nonprofit organization dedicated to improving the quality of life for the visually impaired through the human-animal bond. Through this partnership, Dog House Winery is reaching out to dog lovers with an affinity for wine and giving back to the community. Enjoy these wines knowing you are contributing to a wonderful cause!
Covering the most vine acreage in the state compared to any other red wine variety, Cabernet Sauvignon produces as much wine in California as Merlot and Pinot Noir combined. The state's diverse terrain and microclimates, as well as the freedom of its winemakers, allow for an incredible range of wine styles from this single grape.
California's most famous region—and especially for Cabernet Sauvignon—is the acclaimed Napa Valley. While Cabernet is successful throughout the world, rarely has it achieved such merit as it does from the Napa Valley. At this point the two are so intrinsically linked that it is difficult to discuss one without the other.
Napa's closest neighbor, Sonoma County, does an impressive job keeping up with Napa's fame and glory. Alexander Valley, Sonoma Mountain, Moon Mountain and Knights Valley contribute to the lot of some of California's top-rated Cabernet Sauvignon.
Lake County in California's North Coast has become a focus for some of Napa's more respected growers. From the Central Coast come iconic examples of classic California Cabernet; Lodi and the Sierra Foothills are great budget-friendly sources of amicable Cabernets.
YNG102323_2002CX
Item#
82711