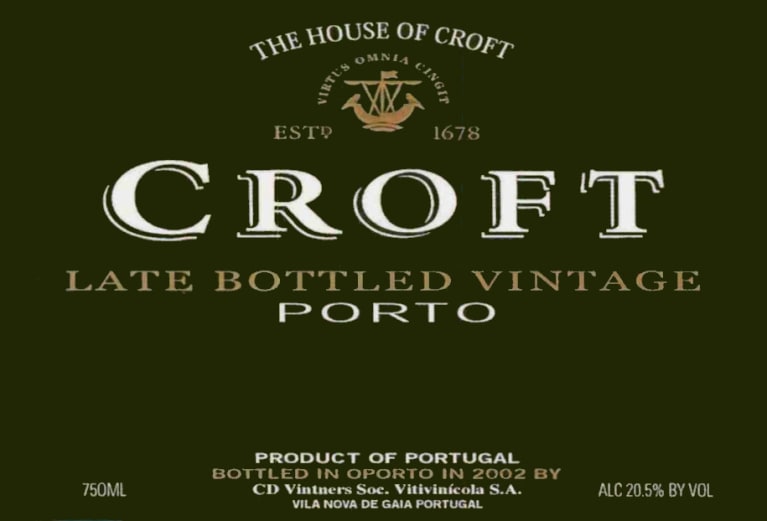 Croft Late Bottled Vintage 2003
Ships Mon, Jan 1
Limit
0
bottles
per customer
The House of Croft, founded in 1678, was one of the earliest shippers of Port wines and since the seventeenth century, has been renowned for the excellence of its production.The family first became involved in wine shipping through their connection with a distinguished family of merchants, the Thompsons of York. The Thompsons had been trading with Portugal since 1660 and when Thomas Croft married Frances, daughter of Sir Stephen Thompson, it was only natural that the two families should combine their business interests in the wine trade.
Near river, rail and road transport and lying against a backdrop of rugged mountainous scenery, Roêda is considered to be the finest Port estate in Portugal. And today, it is from its own famous Quinta da Roêda, in the centre of the Douro valley, that Croft annually sends down to its lodges in Vila Nova de Gaia the fine wines that constitute the best of Croft's production.The twentieth century directors and managers of Croft & Co. have assiduously pursued the fine quality and reputation they inherited. The House of Croft has continued to play a dominant role in the development of the Port trade, both in Portugal and internationally.
The home of Port—perhaps the most internationally acclaimed beverage—the Douro region of Portugal is one of the world's oldest delimited wine regions, established in 1756. The vineyards of the Douro, set on the slopes surrounding the Douro River (known as the Duero in Spain), are incredibly steep, necessitating the use of terracing and thus, manual vineyard management as well as harvesting. The Douro's best sites, rare outcroppings of Cambrian schist, are reserved for vineyards that yield high quality Port.
While more than 100 indigenous varieties are approved for wine production in the Douro, there are five primary grapes that make up most Port and the region's excellent, though less known, red table wines. Touriga Nacional is the finest of these, prized for its deep color, tannins and floral aromatics. Tinta Roriz (Spain's Tempranillo) adds bright acidity and red fruit flavors. Touriga Franca shows great persistence of fruit and Tinta Barroca helps round out the blend with its supple texture. Tinta Cão, a fine but low-yielding variety, is now rarely planted but still highly valued for its ability to produce excellent, complex wines.
White wines, generally crisp, mineral-driven blends of Arinto, Viosinho, Gouveio, Malvasia Fina and an assortment of other rare but local varieties, are produced in small quantities but worth noting.
With hot summers and cool, wet winters, the Duoro has a maritime climate.
Blended from the most important red grapes of the Douro Valley, Port is the famous fortified wine from Portugal. It is based on the Touriga Nacional grape with over 80 other varieties approved for use in the blend. However, typically about four other varieties play a major role: Tinta Barroca, Tinta Cão, Tinta Roriz (Tempranillo) and Touriga Francesa. Other wine regions of the world can produce fortified wine of a similar style from the same grapes or other grapes.
There are numerous styles of Port: Ruby, Tawny, Vintage, LBV, White, Colheita, and a few unusual others.
Ruby ports usually pack the most value and are ready to drink once bottled. Typical characteristics are ripe cherry and blackberry flavors with stewed plums, cocoa and dates.
Tawny ports are "tawny" in color and have flavors of toffee, caramel, toasted pecans, vanilla, dried apricot, citrus peel, green figs and roasted espresso. The age designation on a Tawny Port indicates the average vintage age of the grapes in the bottle. These are not intended to be aged once bottled.
When Port is made with high quality grapes selected from a single notable vintage, it is called Vintage Port. Some of the best recent vintages are 2016, 2011, 2007, 2003, 2000, 1997 and 1994. Vintage Ports are complex and full-bodied with many flavors possible: concentrated blackberry, black cherry, raspberry and spice, smoke, coffee and chocolate. Vintage ports tend to improve in the bottle up to approximately 30 years from the vintage.
LBV Port comes from a single-vintage Ruby Port and may spend six years in the barrel before being bottled. These are ready to drink upon release. Serve most Ports slightly chilled at around 55-65°F.
ZZZREFPRODUCT369350
Item#
369350