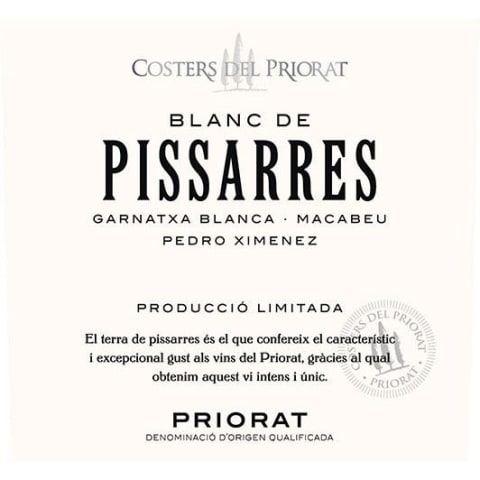 Costers del Priorat Blanc de Pissarres 2015
Ships Tomorrow
Limit
0
bottles
per customer
Winemaker Notes
The nose shows the marked personality of the Priorat's White Grenache, with its characteristic notes of white flowers, herbs and fruit skin. The palate is unctuous, with citrus and smoky flavors. The finish is very persistent and offers a surprising and lovely sweet touch. It is the warm and charming footprint of the Pedro Ximenez variety, in interesting balance with a fresh and genuine minerality.
Blend: 55% Garnacha Blanca, 38% Macabeo, 7% Pedro Ximénez
The wines of Costers del Priorat emphasize nuance and elegance over power, a philosophical departure from the strong, tannic wines that once defined Priorat. Costers del Priorat was founded by several partners bound to the land. Starting with a small parcel planted in 1934 in Bellmunt, Costers del Priorat now owns 25 hectares in four villages. Winemaker Jose Mas Barberà, the leading force of the winery, sees a new vision for the region focused on village specific wines from old vines, transmitted with clarity and grace.
The majority of his plantings are Carignan (Samsó) vines, a once-maligned ancient grape variety that is now viewed by many as the ideal variety for this extreme landscape. Carignan can withstand the extreme temperature fluctuations and drought conditions of the region to produce wines of exceptional aromatic complexity. All of this comes in an incredibly delicately packaged structure. Jose achieves this elegance by allowing the wines to guide their evolution without ever forcing their trajectory.
By utilizing only yeast from the vineyards for spontaneous fermentation and placing the wines in a multitude of vessels that allow air exchange, Jose achieves power through elegance. His exploration of amphora, cement, demi-muids and large foudres are the key to unlocking the minerality of these wines. This philosophy is the opposite of "one size fits all" winemaking. Chemicals are never used, only natural organic and biodynamic treatments are utilized, the winery is practicing organic.
The cellar lies in El Molar in the southeast of the appellation, built into the side of the mountain to take advantage of an old Roman magnesium mine. The surrounding vineyards vary from slate to alluvial and are planted with mostly Garnacha with a Mediterranean disposition. In Bellmunt, to the northwest, the winery owns a parcel of west-facing carignan planted in 1934 in Sant Martí. The single-vineyard wine, Clos Cypres, comes from this parcel with the rest of the grapes going into the winery's two introductory cuvées. Their northernmost plot is in the village Torroja del Priorat, a high elevation site planted in 1939 composed of steep, terraced vineyards surrounding the old Alsera masía (farmhouse) the vineyard of Clos Alzina. The fourth vineyard, located in the old village of La Vilella Baixa, is directly across the valley from Torroja and was planted in 1929 to carignan.
Tiny and entirely composed of craggy, jagged and deeply terraced vineyards, Priorat is a Catalan wine-producing region that was virtually abandoned until the early 1990s. Its renaissance came with the arrival of one man, René Barbier, who recognized the region's forgotten potential. He banded with five friends to create five "Clos" in the village of Gratallops. Their aim was to revive some of Priorat's ancient Carignan vines, as well as plant new—mainly French—varieties. These winemakers were technically skilled, well-trained and locally inspired; not surprisingly their results were a far cry from the few rustic and overly fermented wines already produced.
This movement escalated Priorat's popularity for a few reasons. Its new wines were modern and made with well-recognized varieties, namely old Carignan and Grenache blended with Syrah, Cabernet Sauvignon and Merlot. When the demand arrived, scarcity commanded higher prices and as the region discovered its new acclaim, investors came running from near and far. Within ten years, the area under vine practically doubled.
Priorat's steep slopes of licorella (brown and black slate) and quartzite soils, protection from the cold winds of the Siera de Monstant and a lack of water, leading to incredibly low vine yields, all work together to make the region's wines unique. While similar blends could and are produced elsewhere, the mineral essence and unprecedented concentration of a Priorat wine is unmistakable.
With hundreds of white grape varieties to choose from, winemakers have the freedom to create a virtually endless assortment of blended wines. In many European regions, strict laws are in place determining the set of varieties that may be used, but in the New World, experimentation is permitted and encouraged. Blending can be utilized to enhance balance or create complexity, lending different layers of flavors and aromas. For example, a variety that creates a soft and full-bodied wine would do well combined with one that is more fragrant and naturally high in acidity. Sometimes small amounts of a particular variety are added to boost color or aromatics. Blending can take place before or after fermentation, with the latter, more popular option giving more control to the winemaker over the final qualities of the wine.
EWLSPCPRPBP15_2015
Item#
329845