Distiller Notes
Chopin Potato Vodka is the world's most awarded potato vodka. Its uniquely creamy and full-bodied flavor profile makes it a great standalone vodka, ideal for sipping neat or in martinis and cocktails.
Subtle green apple and vanilla aromas. There is a creamy and earthy taste, plus a full body and mouthfeel. The finish is long and clean with no burn.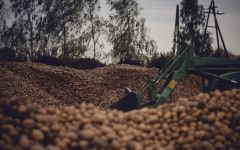 Chopin is a family business that is now in its second generation. The company is proud to be 100% family-owned and have family members working in all aspects of the business – personally assuring the quality of all of its spirits. They are in the pursuit of the best spirits and extracting the best flavor. The Dorda family prides itself on small-batch production and wouldn't have it any other way. The family is passionate about their craft and so its employees, many have been with the company for more than 30 years.
Chopin is one of the few vodka producers in the world that owns a distillery and produces 100% of its alcohol from raw, hand-selected ingredients (most companies purchase bulk alcohol from large, commercial distilleries and operate primarily as bottlers and marketers).
Made from the distillation of anything containing fermentable sugars, Straight Vodka is a clear and unaged spirit. Cereal grains like wheat, rye and barley are the most commonly used bases, but modern Vodkas are now made from crops as diverse as sugar beets, grapes and potatoes. Ideally Straight Vodkas should be colorless, odorless and flavorless. They are sipped chilled and neat, or used as a base for a variety of cocktails, from the Martini to the Cosmopolitan.