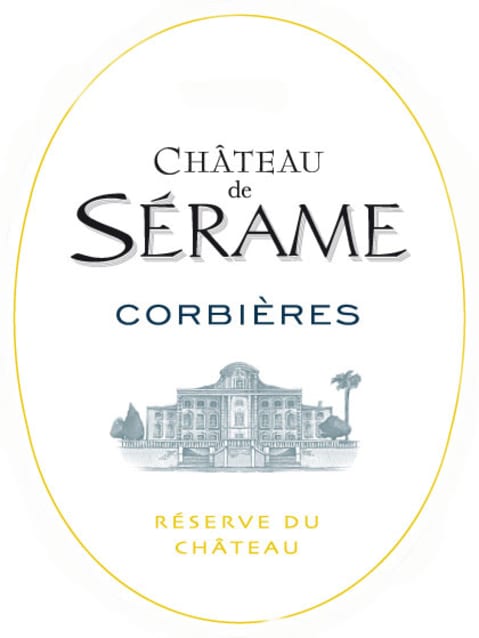 Chateau Serame Corbieres 2007
Out of Stock

(was $16.99)
Winemaker Notes
This predominantly Syrah-based Corbieres displays a garnet red colour. An intense bouquet reveals notes of violets, bacon and peppered spices. The wine is already very soft, delicate and ripe, underpinned by a tannic structure with a well-balanced velvet texture. The qualities of this wine will delight every palate.
Blend: 58% Syrah, 19% Carignan, 23% Grenache Noir
Chateau de Serame is a magnificent property located in the wooded area near Calal du Midi in Languedoc region of France. The estate offers exceptional terroir from the Languedoc region. The team at Chateau de Serame has applied itself to a production of the highest standards. Vineyard renovations and management, sustainable viticulture practices, and a combination of traditional and modern winemaking practices create wines of outstanding aromatic purity and rare finesse.
The Corbières AOC, established in 1985, is the largest in the Languedoc, and represents the South of France in transition. Though viticulture here dates back to the Romans, only within the last twenty years have Corbières wines begun to reclaim their reputation. Approved for reds, rosés, and whites, the region's vineyards cover a wide variety of elevations, soil types, and exposures. Hilly terrain and the Atlantic Cers wind moderate the Mediterranean heat, giving the wines balance and complexity; the best will go ten years or more in the cellar.
Reds represent 88% of the AOC's production and are an assemblage of the sun-loving grapes of southern France. Carignan's briars, Grenache's berries, Syrah's cherries and Mourvèdre's plums allow for a wide range of styles, which are often influenced by the wild herbs of the garrigue. Corbières rosés, though only 9% of production, are serious wines and the small production of Rhône-variety whites are fresh and sea-influenced.
With eleven sub-appellations, Corbières is an AOC in the process of refinement. Corbières-Boutenac attained Cru status in 2005, one of only five in the Languedoc to achieve this highest ranking.
With hundreds of red grape varieties to choose from, winemakers have the freedom to create a virtually endless assortment of blended red wines. In many European regions, strict laws are in place determining the set of varieties that may be used, but in the New World, experimentation is permitted and encouraged resulting in a wide variety of red wine styles. Blending can be utilized to enhance balance or create complexity, lending different layers of flavors and aromas. For example, a red wine blend variety that creates a fruity and full-bodied wine would do well combined with one that is naturally high in acidity and tannins. Sometimes small amounts of a particular variety are added to boost color or aromatics. Blending can take place before or after fermentation, with the latter, more popular option giving more control to the winemaker over the final qualities of the wine.
How to Serve Red Wine
A common piece of advice is to serve red wine at "room temperature," but this suggestion is imprecise. After all, room temperature in January is likely to be quite different than in August, even considering the possible effect of central heating and air conditioning systems. The proper temperature to aim for is 55° F to 60° F for lighter-bodied reds and 60° F to 65° F for fuller-bodied wines.
How Long Does Red Wine Last?
Once opened and re-corked, a bottle stored in a cool, dark environment (like your fridge) will stay fresh and nicely drinkable for a day or two. There are products available that can extend that period by a couple of days. As for unopened bottles, optimal storage means keeping them on their sides in a moderately humid environment at about 57° F. Red wines stored in this manner will stay good – and possibly improve – for anywhere from one year to multiple decades. Assessing how long to hold on to a bottle is a complicated science. If you are planning long-term storage of your reds, seek the advice of a wine professional.
ALL5945142_2007
Item#
111325