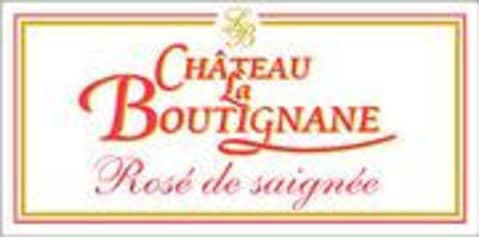 Winemaker Notes
A classic dry Rosé from the south of France, made from 40% Syrah and 60% Grenache. All the grapes were harvested by hand and bled saignee from the fermenting tanks. A gorgeous nose of raspberry and fresh summer fruits, it is full in the mouth with an expressive citrus fruit finish.
The Corbières appellation is one of the most distinguished in Southern France, and Chateau La Boutignane makes some of the finest expressions of wine from this region. Owned by the Olivier Faivre family, the wines have won numerous awards in Europe, and Frank Prial of the New York Times describes the wines as "delicious."
Much of the sixty hectares are planted to 60-old vines of syrah and carignane, with smaller amounts of cinsault, grenache and macabeu. All the grapes are hand-harvested and vinified by gravity maceration.
Boutignane produces just four wines: Rosé, Grande Réserve Blanc, Classique Rouge, and Grande Réserve Rouge. All are distinctive wines that reflect the unique terroir of the Corbières region.
French wine is nearly synonymous with fine wine and all things epicurean, France has a culture of wine production and consumption that is deeply rooted in tradition. Many of the world's most beloved grape varieties originated here, as did the concept of "terroir"—soil type, elevation, slope and mesoclimate combine to produce resulting wines that convey a sense of place. Accordingly, most French wine is labeled by geographical location, rather than grape variety. So a general understaning of which grapes correspond to which regions can be helpful in navigating all of the types of French wine. Some of the greatest wine regions in the world are here, including Bordeaux, Burgundy, the Rhône and Champagne, but each part of the country has its own specialties and strengths.
Pinot Noir and Chardonnay are the king and queen of Burgundy, producing elegant French red and white wines with great acidity, the finest examples of which can age for decades. The same two grapes, along with Pinot Meunier, are used to make Champagne.
Of comparable renown is Bordeaux, focused on bold, structured red blends of Cabernet Sauvignon, Merlot, Cabernet Franc including sometimes a small amount of Petit Verdot or Malbec. The primary white varieties of Bordeaux are Sauvignon Blanc and Sémillon.
The northern Rhône Valley is responsible for single-varietal Syrah, while the south specializes in Grenache blends; Rhône's main white variety is Viognier.
Most of these grape varieties are planted throughout the country and beyond, extending their influence into other parts of Europe and New World appellations.
Whether it's playful and fun or savory and serious, most rosé today is not your grandmother's White Zinfandel, though that category remains strong. Pink wine has recently become quite trendy, and this time around it's commonly quite dry. Since the pigment in red wines comes from keeping fermenting juice in contact with the grape skins for an extended period, it follows that a pink wine can be made using just a brief period of skin contact—usually just a couple of days. The resulting color depends on grape variety and winemaking style, ranging from pale salmon to deep magenta.
GVIG1BU1BRS_2004
Item#
83055