Caymus Suisun The Walking Fool 2019
Out of Stock

(was $37.99)
Ships today if ordered in next 11 hours
Winemaker Notes
A silky scarlet red with luminous highlights, this wine opens with a lean earthiness—the scent of rustic wood mixes with sweet spice, a whiff of cigar box, dusty pavement and old leather, infused with garden ripe strawberries and cherries. The palate is smooth and lively, featuring flavors of juicy raspberry, the subtle tartness of cranberry, and notes of espresso and smoked meat. Underlying acidity makes this wine mouthwatering, while its tannins lend a gritty yet softly fine texture. On the finish: a trace of vibrant cranberry, luxurious cocoa and an extra kick of spice.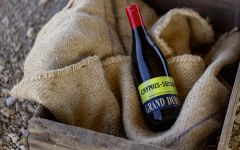 Chuck Wagner founded Caymus Vineyards with his parents in 1972 in Rutherford, California, in the center of Napa Valley. Now Caymus is putting down roots in a neighboring wine region called Suisun Valley. Only a 30-minute drive southeast of Napa, Suisun Valley is less well-known than its more famous neighbor, but shares a similar maritime climate and superb soils. Chuck likes to say that Suisun Valley reminds him of Napa Valley in the 1960s – full of open space, small family farms, meandering waterways lined with native oaks, and exceptional vineyards. Known more for its production of stone fruits, Suisun Valley is increasingly being recognized for its wines.
 For the past several years, Chuck has been producing Caymus-Suisun Grand Durif -- Durif is synonymous with Petite Sirah, one of the varietals that thrives in Suisun Valley. In addition to growing grapes in the region, the Wagner family also plans to open a winery in Suisun Valley, slated for opening by early 2021. Chuck feels privileged to include "Suisun" on a Caymus wine and believes that people will come to know and appreciate the region more and more. The family looks forward to inviting people to explore the special character of a place they consider a "hidden gem."
An off the beaten path wine country destination, Suisun Valley is just east of Napa Valley in the California Coast Ranges. The valley boasts plentiful agricultural products as well as wine.
With hundreds of red grape varieties to choose from, winemakers have the freedom to create a virtually endless assortment of blended red wines. In many European regions, strict laws are in place determining the set of varieties that may be used, but in the New World, experimentation is permitted and encouraged resulting in a wide variety of red wine styles. Blending can be utilized to enhance balance or create complexity, lending different layers of flavors and aromas. For example, a red wine blend variety that creates a fruity and full-bodied wine would do well combined with one that is naturally high in acidity and tannins. Sometimes small amounts of a particular variety are added to boost color or aromatics. Blending can take place before or after fermentation, with the latter, more popular option giving more control to the winemaker over the final qualities of the wine.
How to Serve Red Wine
A common piece of advice is to serve red wine at "room temperature," but this suggestion is imprecise. After all, room temperature in January is likely to be quite different than in August, even considering the possible effect of central heating and air conditioning systems. The proper temperature to aim for is 55° F to 60° F for lighter-bodied reds and 60° F to 65° F for fuller-bodied wines.
How Long Does Red Wine Last?
Once opened and re-corked, a bottle stored in a cool, dark environment (like your fridge) will stay fresh and nicely drinkable for a day or two. There are products available that can extend that period by a couple of days. As for unopened bottles, optimal storage means keeping them on their sides in a moderately humid environment at about 57° F. Red wines stored in this manner will stay good – and possibly improve – for anywhere from one year to multiple decades. Assessing how long to hold on to a bottle is a complicated science. If you are planning long-term storage of your reds, seek the advice of a wine professional.
YNG433616_2019
Item#
820497