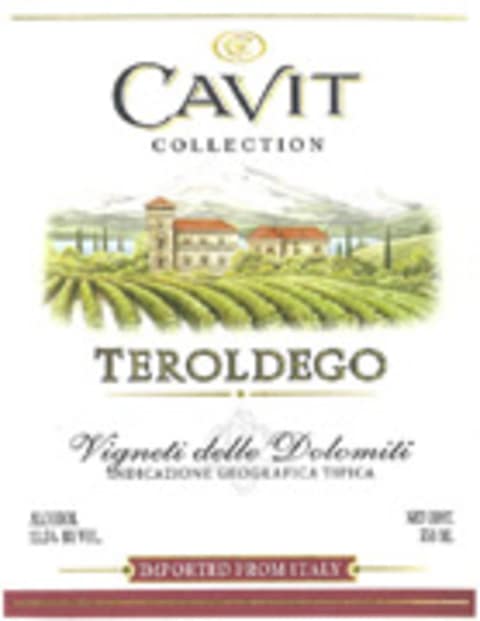 Cavit Teroldego 2004
Out of Stock

(was $12.99)
Winemaker Notes
This vibrant red wine is made from 100% Teroldego (teh-RAWL-deh-goh) grapes grown in the northern Italian province of Trentino, from vineyards surrounding the Rotaliana plain, north of the city of Trento. Hand-picked grapes are macerated on the skins for 8-10 days in stainless steel tanks. The resulting wine is matured partly in large Slavonian oak casks for three months to preserve its distinctive fruit concentration and smooth tannins.
Aromas of fresh raspberries and blackberries give way to a palate that is medium-bodied and dry with flavors of black cherries, wild berries and a hint of almond. The taste leads into a long finish with a profile similar to Shiraz. Color is ruby red with violet reflections.
Very food-friendly, and terrific with grilled or roasted red meats, pastas, risottos and fish dishes prepared with flavorful sauces. Enjoy at room temperature.
Cavit swept onto the radar of American wine lovers in the 1970s as a pioneer of a then little-known white wine called Pinot Grigio. Prized for its crisp, elegant character, fruit flavors and delicate floral aroma, Pinot Grigio is a demanding grape to cultivate, but has flourished in northern Italy for over a century. Cavit has consistently championed this varietal in the U.S., earning its well-deserved title of America's #1 Italian Pinot Grigio*. Additionally, Cavit produces a full range of high-quality, approachable and food-friendly wines including Pinot Noir, Prosecco, Chardonnay, Moscato, Rose, and Red Blend.
The Cavit winery is located in Trentino, Italy, a picturesque landscape of mountains, lakes, apple orchards and medieval castles. Vineyards in this region enjoy the warming effects of the "Ora del Garda," a dry, balmy breeze that sweeps across nearby Lake Garda and protects the fruit from moisture and disease. Contrastingly cool evenings promote rich, intense aromas and flavors in the grapes. Winemaking is overseen by Anselmo Martini, a 20+ year industry veteran and one of northern Italy's top enologists. He earned his degree after several years of study at the renowned agricultural school and research center Istituto Agrario San Michele all'Adige (now known as the Edmund Mach Foundation). Over the years, Anselmo has become one of the most respected winemakers in the region, earned the title of "Winemaker of the Year" from "Guida Essenziale ai Vini d'Italia 2015" ("Essential Guide to Italian Wines 2015") and for decades he has played an integral role in developing the winery's reputation as Trentino's leading wine producer.
A mountainous northern Italian region heavily influenced by German culture, Trentino-Alto Adige is actually made up of two separate but similar regions: Alto Adige and Trentino.
Trentino, the southern half, is primarily Italian-speaking and largely responsible for the production of non-native, international grapes. There is a significant quantity of Chardonnay, Pinot Grigio and Merlot produced. But Trentino's native and most unique red variety, Teroldego, while still rare, is gaining popularity. It produces a deeply colored red wine rich in wild blackberry, herb, coffee and cocoa.
The rugged terrain of German-speaking Alto Adige (also referred to as Südtirol) focuses on small-scale viticulture, with great value placed on local varieties—though international varieties have been widely planted since the 1800s. Sheltered by the Alps from harsh northerly winds, many of the best vineyards are at extreme altitude but on steep slopes to increase sunlight exposure.
Dominant red varieties include the bold, herbaceous Lagrein and delicate, strawberry-kissed, Schiava, in addition to some Pinot Nero.
The primary white grapes are Pinot grigio, Gewürztraminer, Chardonnay and Pinot blanc, as well as smaller plantings of Sauvignon blanc, Müller Thurgau. These tend to be bright and refreshing with crisp acidity and just the right amount of texture. Some of the highest quality Pinot grigio in Italy is made here.

Unique to the Trentino region of NE Italy, Teroldego produces a deeply purple-hued wine with an assertive black fruit character and intriguing aromatics. The best quality Teroldego comes from the Campo Rotaliano, a sandy and gravelly plain between the tall mountains of the area. Somm Secret—Dating back to the 15th century in Rotaliano, Teroldego has created a well-connected anthology for itself. As a parent to Lagrein, a variety native to nearby Alto Adige, it is also closely related to Syrah.
SWS121594_2004
Item#
92829