Caves Sao Joao Sao Joao Rose Bruto 2019
Ships Wed, Oct 28
Limit
0
bottles
per customer
Winemaker Notes
Touriga Nacional gives intense rose petal aromas and Baga a bright red fruit character. Cabernet lends depth and herbal notes. Floral tones and red berry fruit lift the nose. On the palate, delicate and persistent bead makes for a silky, rich texture. Bright strawberry and red raspberry on the mid palate, complemented by mineral, white pepper and more floral tones. Racy acidity cuts a beam through the middle, making for a food-friendly sparkler.
This is a terrific aperitif-style Rosé, enjoyable on its own. It also makes a lovely complement to shellfish, fried seafood, tempura, and spicier Asian cuisine.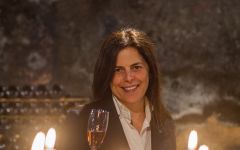 Established in 1920, Caves São João became a dominant force in Portuguese winemaking in the mid-20th century with their wines Porta dos Cavaleiros from the Dão and Bairrada's Frei João. Given the shifting trends in consumer preferences, Bairrada and Dão fell to obscurity in the 1990s when critical influence drove the demand for bigger, extracted, warmer climate wines. But history tends to repeat itself and after 20 years of hibernation savvy consumers and food-conscious sommeliers are again looking for finesse and freshness and heading back to Bairrada and Dão. In 2013, the Costa family owners of the estate, decided to open their cellars and offer the old vintages in stock, ranging from 1959 to 2000. Wines that when young had a vegetal character, pronounced tannins and high acidity aged gracefully when kept in perfect condition at the winery for 20-40 years and are now pristine examples of mature wines with profound finesse and irreplaceable complexity. Caves S. João, with 1 million bottles in stock, as to be one of the few wineries in the world offering library with vintages going back to the late 1950's.
What makes Caves São João unique? Since this winery was established in 1920, it became a dominant force in Portuguese winemaking in the mid-20th century. This winery has such a large range in vintages from 1959 to 2000 and these wines are kept in perfect condition. 
Producing some of the country's most dignified and mineral-driven red wines, Dão is positioned in north central Portugal where granite mountains surround and shelter the region from any Atlantic maritime influence. Summers are long and warm; winters see abundant rainfall.
What are the different types of Champagne and sparkling wine?
Beloved for its lively bubbles, sparkling wine is the ultimate beverage for any festivity, whether it's a major celebration or a mere merrymaking of nothing much! Sparkling wine is made throughout the winemaking world, but only can be called "Champagne" if it comes from the Champagne region of France and is made using what is referred to as the "traditional method." Other regions have their own specialties—Crémant in other parts of France, Cava in Spain and Prosecco in Italy, to name a few. New World regions like California, Australia and New Zealand enjoy the freedom to make many styles, with production methods and traditions defined locally. In a dry style, Champagne and sparkling wine goes with just about any type of food. Sweet styles are not uncommon and among both dry and sweet, you'll find white, rosé—or even red!—examples.
How is Champagne and sparkling wine made?
Champagne, Crémant, Cava and many other sparkling wines of the world are made using the traditional method, in which the second fermentation (the one that makes the bubbles) takes place inside the bottle. With this method, spent yeast cells remain in contact with the wine during bottle aging, giving it a creamy mouthful, toasted bread or brioche qualities and in many cases, the capacity to age. For Prosecco, the carbonation process usually occurs in a stainless steel tank (before bottling) to preserve the fresh fruity and floral aromas imminent in this style.
What gives Champagne and sparkling wine its bubbles?
The bubbles in sparkling wine are formed when the base wine undergoes a secondary fermentation, which traps carbon dioxide inside the bottle or fermentation vessel.
How do you serve Champagne and sparkling wine?
Ideally for storing Champagne and sparkling wine in any long-term sense, they should be at cellar temperature, about 55F. For serving, cool Champagne and sparkling wine down to about 40F to 50F. (Most refrigerators are colder than this.) As for drinking Champagne and sparkling wine, the best glasses have a stem and flute or tulip shape to allow the bead (bubbles) to show.
How long does Champagne and sparkling wine last?
Most sparkling wines like Prosecco, Cava or others around the "$20 and under" price point are intended for early consumption. Wines made using the traditional method with extended cellar time before release can typically improve with age. If you are unsure, definitely consult a wine professional for guidance.
ONYOBSJER75_19_2019
Item#
641561