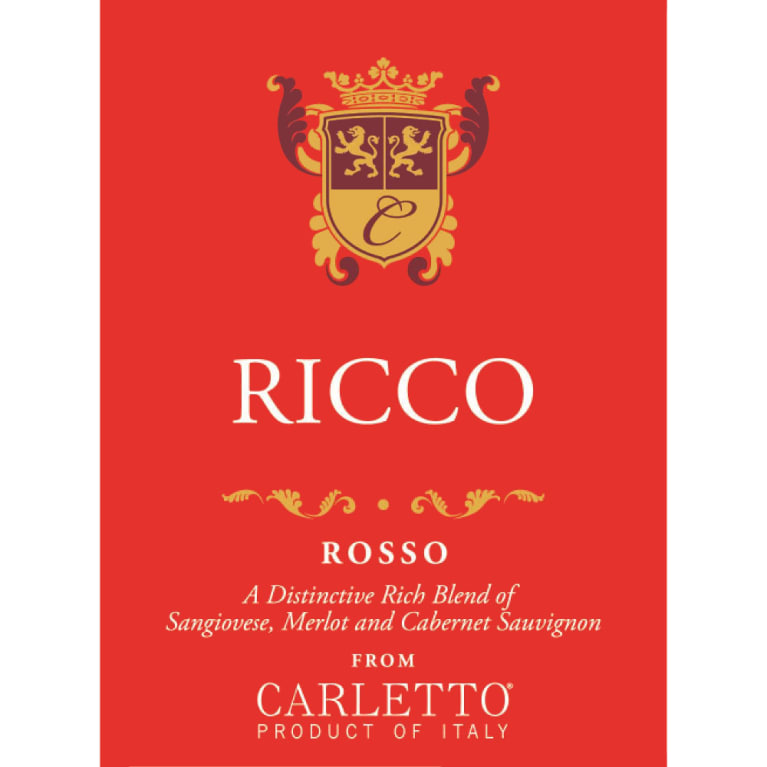 Carletto Ricco Rosso 2013
Out of Stock

(was $14.99)
Winemaker Notes
The name "Ricco" (Rich) refers to our rich blend of Sangiovese, Merlot and Cabernet Sauvignon grapes all grown, fermented and vinted in stainless steel at controlled temperature. Ricco showcases the best quality of each variety: the intense bouquet of mature fruits from the Sangiovese, the soft tannins from the Merlot and the rich cherry flavor from the Cabernet Sauvignon.
A delicious accompaniment to beef, pizza, hard cheeses, or pasta with tomato sauce.
Armando De Zan, owner of Candoni De Zan Wines and other prestigious brands, has created the Carletto line to honor his beloved uncle and role model. Uncle Carletto was awarded the title "Cavaliere del Lavoro," or "Commander of the Order for Merit Recognition," for his outstanding viticultural work. He was a very well-known agronomist with a passion for uncovering the most authentic native Italian vines. He sought to elevate the status of several regional varieties, including Prosecco and Pinot Grigio from Veneto. With every glass of Carletto Wines you will experience the Classsic Italian Taste.
Stretching along Italy's eastern coast with neighbors, Umbria to its west and Abruzzo to its south, Marche is a region with a varying climate from north to south. Its coastal plains roll into hills that become the Apennine Mountains, which run the length of the country. The Marche's best red wines come from the grapes, Montepulciano and Sangiovese; the local Verdicchio makes refreshing, crisp and light whites.
With hundreds of red grape varieties to choose from, winemakers have the freedom to create a virtually endless assortment of blended red wines. In many European regions, strict laws are in place determining the set of varieties that may be used, but in the New World, experimentation is permitted and encouraged resulting in a wide variety of red wine styles. Blending can be utilized to enhance balance or create complexity, lending different layers of flavors and aromas. For example, a red wine blend variety that creates a fruity and full-bodied wine would do well combined with one that is naturally high in acidity and tannins. Sometimes small amounts of a particular variety are added to boost color or aromatics. Blending can take place before or after fermentation, with the latter, more popular option giving more control to the winemaker over the final qualities of the wine.
How to Serve Red Wine
A common piece of advice is to serve red wine at "room temperature," but this suggestion is imprecise. After all, room temperature in January is likely to be quite different than in August, even considering the possible effect of central heating and air conditioning systems. The proper temperature to aim for is 55° F to 60° F for lighter-bodied reds and 60° F to 65° F for fuller-bodied wines.
How Long Does Red Wine Last?
Once opened and re-corked, a bottle stored in a cool, dark environment (like your fridge) will stay fresh and nicely drinkable for a day or two. There are products available that can extend that period by a couple of days. As for unopened bottles, optimal storage means keeping them on their sides in a moderately humid environment at about 57° F. Red wines stored in this manner will stay good – and possibly improve – for anywhere from one year to multiple decades. Assessing how long to hold on to a bottle is a complicated science. If you are planning long-term storage of your reds, seek the advice of a wine professional.
SWS253842_2013
Item#
139798