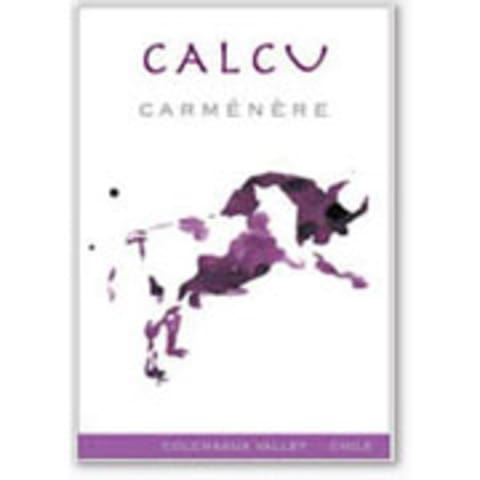 Calcu Carmenere 2011
Out of Stock

(was $12.98)
Winemaker Notes
The wine is made from 100% Carmenere grapes grown between the Chimbarongo Creek and the Tinguiririca River on the Maquis Estate in central Colchagua Valley. The vineyard block's two-meter-deep, well-drained alluvial soil contains gravel, contributing to a wine that has pronounced spice and black fruit aromas and velvety, bright tannins. This is a silky Carmenere, with flavors of blackberry, cinnamon and rosemary.
Rodrigo Romero is the winemaker of an exciting line of small production wines made for everyday drinking but far more interesting and distinctive than most in its category. Calcu, which means "magician" in the local Mapuche language, was created to emphasize the diversity of Chile's Colchagua Valley with most of the estate fruit coming from the family's cool Marchigüe vineyard.
Well-regarded for intense and exceptionally high quality red wines, the Colchagua Valley is situated in the southern part of Chile's Rapel Valley, with many of the best vineyards lying in the foothills of the Coastal Range.
Heavy French investment and cutting-edge technology in both the vineyard and the winery has been a boon to the local viticultural industry, which already laid claim to ancient vines and a textbook Mediterranean climate.
The warm, dry growing season in the Colchagua Valley favors robust reds made from Cabernet Sauvignon, Carmenère, Malbec and Syrah—in fact, some of Chile's very best are made here. A small amount of good white wine is produced from Chardonnay and Sauvignon Blanc.
Dark, full-bodied and herbaceous with a spicy kick, Carménère found great success with its move to Chile in the mid-19th century. However, the variety went a bit undercover until 1994 when many plantings previously thought to be Merlot, were profiled as Carménère. Somm Secret— Carménère is both a progeny and a great-grandchild of the similarly flavored Cabernet Franc.
GVIG1CA1BCA_2011
Item#
144109