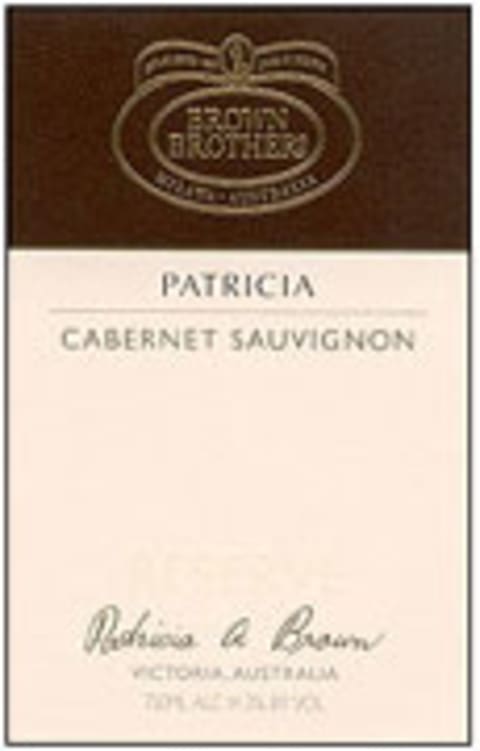 Brown Brothers Patricia Reserve Cabernet Sauvignon 2001
Winemaker Notes
The Patricia line from Brown Brothers is a tribute to Patricia Brown, beloved matriarch of the Brown family and mother of John, Peter and Ross Brown, all of whom are actively involved in the winery today. Patricia's professional and personal contributions to the company throughout the years, together with her love of family, have helped make this family business the success it is today.
Production Area
Victoria, Australia
Grape Varieties
88% Cabernet Sauvignon, 7% Petit Verdot, 4% Shiraz, 1% Mondeuse
Vinification
Following malolactic fermentation, different parcels of the wine spend varying time in new oak; between 12 and 15 months. A range of oak types are used, with 84% in French oak barriques, 13.5% in American oak barriques and puncheons and 2.5% in Russian oak barriques. The wine is bottled with an alcohol of 14.3%, a pH of 3.55 and an acid level of 6.5 gr/l
Color
Deep ruby red
Bouquet
Aromas of red summer berries and cassis
Taste
Intense, ripe Cabernet flavors of mulberry and blueberry, combined with nuances of oak and firm but fine tannins
Serving Suggestions
Outstanding with grilled meats, beef or venison in a rich red wine reduction sauce and aged cheddar or parmesan cheese served with walnut bread
At a time when several leading Australian wineries have been taken over by multinational corporations, Brown Brothers, one of the country's oldest, wine producers, remains family owned and operated. Four generations of wine-producing Browns, long admired for their top quality varietal wines, have not rested on their laurels. Without compromising its heritage or experience, the Brown family continues to embrace an innovative approach in all it does.
At Brown Brothers, located in northeast Victoria, mainland Australia's most southern wine region, the focus has always been on the winery's roots and the quality in the bottle. This philosophy is embodied in the company's motto "Nothing but the wine."
Brown Brothers owns 1,450 acres of vineyards and sources its grapes from five sites situated across a variety of climate, terrain and soil. These vineyards range from cool, high altitude areas to warm, dry valleys, allowing the winery to identify the perfect microclimate in which to nurture each varietal.
In 1989, Brown Brothers launched its pioneering Kindergarten Winery to mark the 100th anniversary of the family's first vintage. An enologist's dream, this state-of-the-art mini-winery is devoted to developing new viticultural techniques, enabling the winemaking team to experiment with several small batches of different grape varieties from various vineyard sites.
While Australia is best known for big, supple and potent Shiraz, it is also a fine source of Cabernet Sauvignon. Cab in fact is Australia's second most planted red varietal, and it is both bottled on its own and often used in blends. It's grown in Western Australia, Victoria, New South Wales and South Australia. The latter is the home of Block 42 of the Penfolds Kalimna Vineyard, whose vines -- planted in 1886 -- are believed to be the oldest productive Cabernet vines in the world. Two of the most highly regarded sources of Australian Cabernet Sauvignon, though, are Coonawarra on South Australia's Limestone Coast, and Margaret River in Western Australia, near Perth.
Coonawarra, famous for its rich red soil called terra rossa, has held Cabernet vines since the 1890's. Though it can get quite warm during the growing season, it's not far from the cool waters of the Southern Ocean, which tempers the climate and promotes balance in the grapes and resulting wines. These Cabs tend to be complex indeed, showing trademark dark fruit and firm tannins, along with notes of cigar box, cedar and – very often – mint and/or eucalyptus. Some producers to look for are Jim Barry, Yalumba, Berton Vineyards and Penley Estate.
Margaret River, on the other hand, stepped into wine production only in the 1960's. It is situated on the lower western tip of the country, where the Southern and Indian Oceans meet. This coastal location creates an even more temperate, maritime-influenced climate that resembles that of Bordeaux. In good years these Australian Cabs show amazing balance between ripeness, tannins and acidity, along with lovely texture. Producers of note include Leeuwin Estate, Vasse Felix and Howard Park.
NDF180797_2001
Item#
86643