Bottega Prosecco Il Vino dei Poeti
Winemaker Notes
Straw yellow with gold reflexes, fine and persistent perlage. Bouquet is fruity (apple, white peach, citrus fruits) and delicate floral (acacia, wisteria) notes. Fresh, delicate, balanced, with an harmonious blend of acidity and softness .
Critical Acclaim
All Vintages
Subtle and fruity with sliced strawberries and lemons. Some apples, too. Medium to full body, bright acidity and a fresh and clean finish.
COMMENTARY: The Bottega Il Vino Dei Poeti Prosecco Brut is a delectable brut. This wine bites nicely on the palate and shows a crisp, yet smooth and lively aftertaste. TASTING NOTES: This wine drinks beautifully and exhibits aromas and flavors of bright apple and a hint of flowers. Drink this as an aperitif or with pre-dinner bites. (Tasted: June 24, 2020, San Francisco, CA)
View More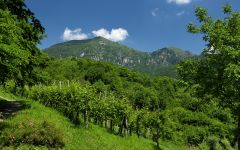 Sandro Bottega carries many titles: race car driver, modern art aficionado, singer, guitarist, glass designer, avid tennis player and – above all – the charismatic producer of Bottega Wine & Liqueurs.
The basic principles Sandro holds fundamental are simple: creativity, quality and flavor are inextricably linked, discovery is a never-ending process and imaginative presentation is essential. Sandro is also a tireless international ambassador for fine wine and spirits. An entrepreneur at heart and always looking for a challenge, Sandro is involved in the production of grappa, sparkling wine, wine accessories, hand-blown glass, mineral water, olive oil and organic food.
Distilleria Bottega was founded nearly 40 years ago by master distiller and Sandro's father, Aldo Bottega. The company is headquartered in Castello Roganzuolo, about 30 miles from Venice, Italy, with a state-of-the-art distillery located in Pianzano.
One of the world's most popular and playful sparkling wines, Prosecco is a specialty of northeastern Italy, spanning nine provinces of the Veneto and Fruili-Venezia Giulia regions. A higher-quality version of Prosecco wine that must meet more stringent production requirements is known as Prosecco Superiore and must come from the more rugged terrain between the towns of Valdobiaddene and Conegliano. Prosecco can be produced as a still wine, a semi-sparkling wine ("frizzante"), or a fully sparkling wine ("spumante")—the latter being the most common. While Prosecco wine is typically produced in a "brut" (dry) style, its fresh and fruity character makes it seem a bit sweeter than it actually is. "Extra dry" styles, incorporating higher levels of residual sugar, are quite popular, however.
Prosecco wine is made from the Glera grape, which was formerly and confusingly called Prosecco, these wines are notable for pleasant flavors of peach, pear, melon, green apple, and honeysuckle. Lower pressure during the carbonation process (also called the tank method) means that the bubbles are lighter and frothier than in Champagne or other traditional method sparkling wine, and less persistent. Prosecco is also a great choice to blend with orange juice for mimosas for a classic brunch beverage.
A term typically reserved for Champagne and Sparkling Wines, non-vintage or simply "NV" on a label indicates a blend of finished wines from different vintages (years of harvest). To make non-vintage Champagne, typically the current year's harvest (in other words, the current vintage) forms the base of the blend. Finished wines from previous years, called "vins de reserve" are blended in at approximately 10-50% of the total volume in order to achieve the flavor, complexity, body and acidity for the desired house style. A tiny proportion of Champagnes are made from a single vintage.
There are also some very large production still wines that may not claim one particular vintage. This would be at the discretion of the winemaker's goals for character of the final wine.