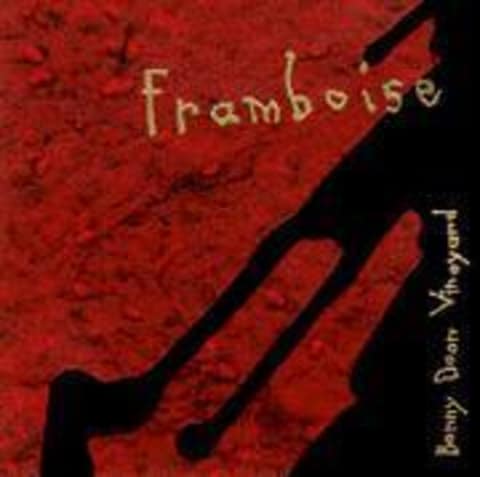 Bonny Doon Raspberry Framboise (375ml half bottle)
Out of Stock

(was $27.99)
Winemaker Notes
Still the essence of raspberry. Our Framboise™ derives its mystique from three highly aromatic varieties of raspberry cultivated in the state of Washington, namely the Meeker, the Tulameen and the mythical Morrison, an exceptionally flavorful variety selected by us from a raspberry research station in Puyallup, Washington. Prior to the addition of this third variety, we imagined we were already approaching the theoretical limits on the raspberriocity potentiometer. However the Morrison provides an extra quantum of flavor heretofore unknown to fans of this exceptional dessert wine. Perfect for kirs, kir royals, and spritzers.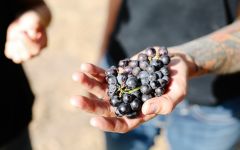 While Bonny Doon Vineyard began with the (in retrospect) foolish attempt to replicate Burgundy in California, Randall Grahm realized early on that he would have far more success creating more distinctive and original wines working with Rhône varieties in the Central Coast of California. The key learning here (achieved somewhat accidentally but fortuitously) was that in a warm, Mediterranean climate, it is usually blended wines that are most successful. In 1986 Bonny Doon Vineyard released the inaugural vintage (1984) of Le Cigare Volant, an homage to Châteauneuf-du-Pape, and this continues as the winery's flagship/starship brand.
Since then, Bonny Doon Vineyard has enjoyed a long history of innovation – the first to truly popularize Rhône grapes in California, to successfully work with cryo-extraction for sundry "Vins de Glacière, the first to utilize microbullage in California, the first to popularize screwcaps for premium wines, and, quite significantly, the first to embrace true transparency in labeling with its ingredient labeling initiative. The upside of all of this activity has brought an extraordinary amount of creativity and research to the California wine scene; the doon-side, as it were, was perhaps an ever so slight inability to focus, to settle doon, if you will, into a single, coherent direction.1
Bonny Doon Vineyard grew and grew with some incredibly popular brands (Big House, Cardinal Zin and Pacific Rim) until it became the 28th largest winery in the United States. Randall came to the realization – better late than Nevers – that he had found that the company had diverged to a great extent from his original intention of producing soulful, distinctive and original wines, and that while it was amusing to be able to get restaurant reservations almost anywhere (the only real tangible perk he was able to discern from the vast scale of the operation), it was time to take a decisive course correction. With this in mind, he sold off the larger brands (Big House and Cardinal Zin) in 2006 and Pacific Rim in 2010.
In the intervening years, the focus of the winery has been to spend far more time working with vineyards in improving their practices, as well as on making wines with a much lighter touch – using indigenous yeast whenever possible, and more or less eschewing vinous maquillage, (at least not to Tammy Faye Bakker-like levels). Recently, Randall has purchased an extraordinary property in San Juan Bautista, which he calls Popelouchum, (the Mutsun word for "paradise,") where he is profoundly intent on producing singular wines expressive of place. There are also very grand plans afoot to plant a dry-farmed Estate Cigare vineyard.
The largest and perhaps most varied of California's wine-growing regions, the Central Coast produces a good majority of the state's wine. This vast California wine district stretches from San Francisco all the way to Santa Barbara along the coast, and reaches inland nearly all the way to the Central Valley.
Encompassing an extremely diverse array of climates, soil types and wine styles, it contains many smaller sub-AVAs, including San Francisco Bay, Monterey, the Santa Cruz Mountains, Paso Robles, Edna Valley, Santa Ynez Valley and Santa Maria Valley.
While the Central Coast California wine region could probably support almost any major grape varietiy, it is famous for a few Central Coast reds and whites. Pinot Noir, Chardonnay, Cabernet Sauvignon and Zinfandel are among the major ones. The Central Coast is home to many of the state's small, artisanal wineries crafting unique, high-quality wines, as well as larger producers also making exceptional wines.
What are the types and styles of dessert wine?
Dessert wines come in an impressive array of styles and sweetness levels. The most straightforward method for making dessert wine is quite simply a late harvest of wine grapes, though further distinctions arise based on country of origin. The main examples include Sauternes (France), Tokaji (Hungary) and ice wine (Germany and Canada).
What are the types and styles of fortified wine?
Fortified wines (meaning alcohol has been added during the winemaking process) include Sherry, Port, Madeira, Banyuls, Rutherglen and other very small-scale styles. Sherry comes in completely dry styles (Fino, Manzanilla, Amontillado, Palo Cortado) and also in a range of sweetness levels. Madeira is typically sweet but can be made into a dry style. Port can be most simply separated into Tawny and Ruby styles. Vermouth, an herb-infused fine wine, is today popular among mixologists and other dessert wines are derived, not from wine grapes, but from different fruits.
How are dessert and fortified wines made?
As mentioned above, many wines in this category—like Sauternes and Tokaji—are produced by leaving the grapes on the vine long after the rest of the harvest has been processed in order to accumulate very high sugar levels. Often, a form of "noble" rot called botrytis plays a role, desiccating the grapes until only the very flavorful solids and sugars remain. These late-picked wines are, accordingly, often referred to as late-harvest wines. In colder climates, the grapes may be allowed to freeze on the vine for the production of ice wine. Other styles are made by letting the harvested grapes dry out (also concentrating sugars). Fortified wines are fortified with neutral spirits to increase the level of alcohol, and, depending on the final style of wine desired, arrest fermentation while some level, high to low (or no), residual sugar remains.
What gives dessert and fortified wines their color?
The different colors of most dessert wines come from the type of grape used and varying levels of oxidation during the winemaking process. The colors of Sherry and Port are mainly the result of oxidation, or lack thereof. Fino and Manzanilla styles are clear to pale gold because of the benevolent film-forming yeasts, called flor, that make a floating seal on the surface of the wine. This layer protects the wine from oxidation, and thus any browning. The other styles of Sherry use various levels of controlled oxidation, resulting in various hues of amber. The two basic styles of Port, Ruby and Tawny, also come in two basic colors, as noted by their names. Both styles are made from the same blend of Douro red varieties, but Tawny ports are tawny in color because they are made from a blend of vintages that have been aged in barrels and gradually exposed to oxygen. Ruby Ports retain their bright color because these wines are aged in barrel only for two to three years before bottling, thus minimizing any color change from oxidation.
How do you serve dessert and fortified wines?
Because of the typically higher sugar and alcohol content, the recommended serving size for most dessert, Sherry & Port wines is three ounces, which is smaller than for regular table wine. In general dessert wines should be served cold—a very sweet Tokaji is served at 40F; Sauternes are best at 50F. Fino and Manzanilla Sherries are best served at 45-50F, while the Amontillados, Olorosos and beyond, are best at 55F. Tawny Ports have a recommended serving temperature of 50-55F, whereas Ruby and Vintage Ports have a recommended serving temperature of 65F.
How long do dessert and fortified wines last?
High quality dessert wines such as Sauternes and Tokaji can often improve up to 10 to 20 years from bottling. Fino and Manzanilla Sherries should be consumed within a year or two of bottling since they are most appreciated for their freshness. Once opened, these are best consumed within a week. Store Amontillado Sherry up to about three years; once opened and refrigerated, these last two to three weeks before they decline. Store Oloro Sherry up to five years; once opened and refrigerated, these last a few weeks or longer. Cream Sherries are best consumed in their youth. Pedro Ximénez Sherry is a special case. It won't necessarily improve with age, but is known to remain unchanged after many years of age. The two basic styles of Port can be further separated into an almost dizzying list of styles, but in general the only ones meant to age longer once bottled are crusted ports and vintage ports (from a declared vintage). Aside from those, LBV (late bottled vintage) ports should age about 4-6 years from the release date and the rest are ready to drink upon release. Fruit wines are not meant to age; the fresh fruit qualities of these wines are most prominent in their youth.