Bonny Doon Contra Red Blend 2012
Out of Stock

(was $18.99)
Winemaker Notes
There is just an unregenerate degree of rusticity to this wine (coupled mercifully with a fragrant, perfumed sweetness), a sort of earthiness, sweatiness, the hayride of one's early to mid-adolescence, undertaken with the blossoming figure of one's febrile fantasy. Ahem. These carignane vines are old, with roots that descend eighty or ninety feet into the water table, extracting minerals all the way doon; the dominant aroma is raw (or perhaps gently smoked) meat, though with a bit of a swirl, slightly more complexity emerges—licorice, flowers, sage and savory (in both senses of the word). The palate is lush and rich, a very complete mouthful of wine.
Blend: 56% Carignane, 17% Syrah, 15% Grenache, 11% Mourvedre, 1% Cinsault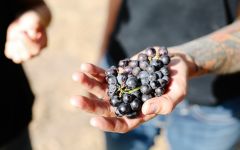 While Bonny Doon Vineyard began with the (in retrospect) foolish attempt to replicate Burgundy in California, Randall Grahm realized early on that he would have far more success creating more distinctive and original wines working with Rhône varieties in the Central Coast of California. The key learning here (achieved somewhat accidentally but fortuitously) was that in a warm, Mediterranean climate, it is usually blended wines that are most successful. In 1986 Bonny Doon Vineyard released the inaugural vintage (1984) of Le Cigare Volant, an homage to Châteauneuf-du-Pape, and this continues as the winery's flagship/starship brand.
Since then, Bonny Doon Vineyard has enjoyed a long history of innovation – the first to truly popularize Rhône grapes in California, to successfully work with cryo-extraction for sundry "Vins de Glacière, the first to utilize microbullage in California, the first to popularize screwcaps for premium wines, and, quite significantly, the first to embrace true transparency in labeling with its ingredient labeling initiative. The upside of all of this activity has brought an extraordinary amount of creativity and research to the California wine scene; the doon-side, as it were, was perhaps an ever so slight inability to focus, to settle doon, if you will, into a single, coherent direction.1
Bonny Doon Vineyard grew and grew with some incredibly popular brands (Big House, Cardinal Zin and Pacific Rim) until it became the 28th largest winery in the United States. Randall came to the realization – better late than Nevers – that he had found that the company had diverged to a great extent from his original intention of producing soulful, distinctive and original wines, and that while it was amusing to be able to get restaurant reservations almost anywhere (the only real tangible perk he was able to discern from the vast scale of the operation), it was time to take a decisive course correction. With this in mind, he sold off the larger brands (Big House and Cardinal Zin) in 2006 and Pacific Rim in 2010.
In the intervening years, the focus of the winery has been to spend far more time working with vineyards in improving their practices, as well as on making wines with a much lighter touch – using indigenous yeast whenever possible, and more or less eschewing vinous maquillage, (at least not to Tammy Faye Bakker-like levels). Recently, Randall has purchased an extraordinary property in San Juan Bautista, which he calls Popelouchum, (the Mutsun word for "paradise,") where he is profoundly intent on producing singular wines expressive of place. There are also very grand plans afoot to plant a dry-farmed Estate Cigare vineyard.
The largest and perhaps most varied of California's wine-growing regions, the Central Coast produces a good majority of the state's wine. This vast California wine district stretches from San Francisco all the way to Santa Barbara along the coast, and reaches inland nearly all the way to the Central Valley.
Encompassing an extremely diverse array of climates, soil types and wine styles, it contains many smaller sub-AVAs, including San Francisco Bay, Monterey, the Santa Cruz Mountains, Paso Robles, Edna Valley, Santa Ynez Valley and Santa Maria Valley.
While the Central Coast California wine region could probably support almost any major grape varietiy, it is famous for a few Central Coast reds and whites. Pinot Noir, Chardonnay, Cabernet Sauvignon and Zinfandel are among the major ones. The Central Coast is home to many of the state's small, artisanal wineries crafting unique, high-quality wines, as well as larger producers also making exceptional wines.
With hundreds of red grape varieties to choose from, winemakers have the freedom to create a virtually endless assortment of blended red wines. In many European regions, strict laws are in place determining the set of varieties that may be used, but in the New World, experimentation is permitted and encouraged resulting in a wide variety of red wine styles. Blending can be utilized to enhance balance or create complexity, lending different layers of flavors and aromas. For example, a red wine blend variety that creates a fruity and full-bodied wine would do well combined with one that is naturally high in acidity and tannins. Sometimes small amounts of a particular variety are added to boost color or aromatics. Blending can take place before or after fermentation, with the latter, more popular option giving more control to the winemaker over the final qualities of the wine.
How to Serve Red Wine
A common piece of advice is to serve red wine at "room temperature," but this suggestion is imprecise. After all, room temperature in January is likely to be quite different than in August, even considering the possible effect of central heating and air conditioning systems. The proper temperature to aim for is 55° F to 60° F for lighter-bodied reds and 60° F to 65° F for fuller-bodied wines.
How Long Does Red Wine Last?
Once opened and re-corked, a bottle stored in a cool, dark environment (like your fridge) will stay fresh and nicely drinkable for a day or two. There are products available that can extend that period by a couple of days. As for unopened bottles, optimal storage means keeping them on their sides in a moderately humid environment at about 57° F. Red wines stored in this manner will stay good – and possibly improve – for anywhere from one year to multiple decades. Assessing how long to hold on to a bottle is a complicated science. If you are planning long-term storage of your reds, seek the advice of a wine professional.
CHMBND4501012_2012
Item#
137046