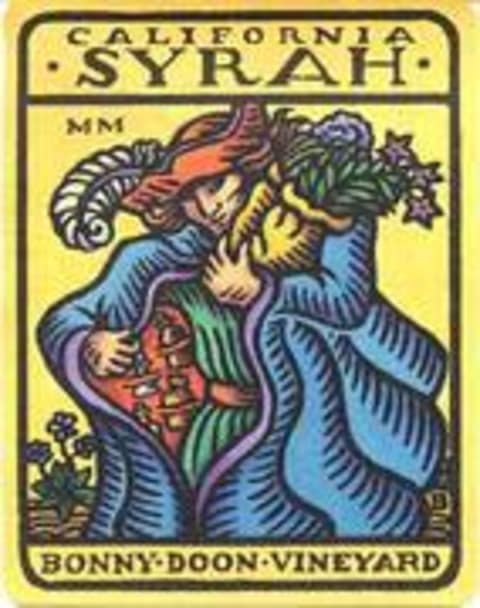 Bonny Doon California Syrah 2000
Out of Stock

(was $18.99)
Winemaker Notes
An altogether new wine for us and a terribly exciting one at that. We have taken to heart some of the lessons learned from fooling around with syrah in southern France. Very long cuvaisons with whole clusters, a sort of macération carbonique manquée, if you will, then micro-bubbleage to a fare-thee-well seems to be a great format for the retention of spice and fragrance in syrah from, shall we say, thermically overachieving climats. The other great lesson is that one can blend various syrahs from different terroirs and climats in much the same way that one blends different cépages to attain complexity and balance. The grapes from the way cool Bien Nacido Vineyard seemed to enhance the mentholated quality that we adore to death. Syrah from the very shy-yielding Chequera vineyard in Paso provided an extremely powerful backbone upon which we were able to overlay and layer in the fine lapidary bits. This is a very potent syrah that still possesses a remarkably fine perfume. It is my expectation that the wine will be a tremendous hit amongst admirers of Old World terroir/funk as well as with brave New World fruit bombardiers.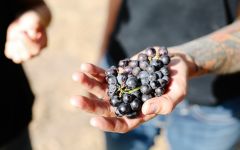 While Bonny Doon Vineyard began with the (in retrospect) foolish attempt to replicate Burgundy in California, Randall Grahm realized early on that he would have far more success creating more distinctive and original wines working with Rhône varieties in the Central Coast of California. The key learning here (achieved somewhat accidentally but fortuitously) was that in a warm, Mediterranean climate, it is usually blended wines that are most successful. In 1986 Bonny Doon Vineyard released the inaugural vintage (1984) of Le Cigare Volant, an homage to Châteauneuf-du-Pape, and this continues as the winery's flagship/starship brand.
Since then, Bonny Doon Vineyard has enjoyed a long history of innovation – the first to truly popularize Rhône grapes in California, to successfully work with cryo-extraction for sundry "Vins de Glacière, the first to utilize microbullage in California, the first to popularize screwcaps for premium wines, and, quite significantly, the first to embrace true transparency in labeling with its ingredient labeling initiative. The upside of all of this activity has brought an extraordinary amount of creativity and research to the California wine scene; the doon-side, as it were, was perhaps an ever so slight inability to focus, to settle doon, if you will, into a single, coherent direction.1
Bonny Doon Vineyard grew and grew with some incredibly popular brands (Big House, Cardinal Zin and Pacific Rim) until it became the 28th largest winery in the United States. Randall came to the realization – better late than Nevers – that he had found that the company had diverged to a great extent from his original intention of producing soulful, distinctive and original wines, and that while it was amusing to be able to get restaurant reservations almost anywhere (the only real tangible perk he was able to discern from the vast scale of the operation), it was time to take a decisive course correction. With this in mind, he sold off the larger brands (Big House and Cardinal Zin) in 2006 and Pacific Rim in 2010.
In the intervening years, the focus of the winery has been to spend far more time working with vineyards in improving their practices, as well as on making wines with a much lighter touch – using indigenous yeast whenever possible, and more or less eschewing vinous maquillage, (at least not to Tammy Faye Bakker-like levels). Recently, Randall has purchased an extraordinary property in San Juan Bautista, which he calls Popelouchum, (the Mutsun word for "paradise,") where he is profoundly intent on producing singular wines expressive of place. There are also very grand plans afoot to plant a dry-farmed Estate Cigare vineyard.
California is a winemaking colossus; by itself it is the fourth largest producer in the world. Red wine accounts for 56% of the total by volume, and red grapes 63% of total acres planted. In addition, a number of California red wines are heralded as being among the most prestigious and sought-after wines in the world.
While the state's incredibly diverse geography, soils and microclimates allow for a wide array of styles, the key factor unifying California red wine is the abundance of sunshine and a long, consistent growing season. This leads to well-developed fruit marked both by impressive ripeness and balancing acidity.
The state's most famous red wine region, of course, is Napa Valley, where Cabernet Sauvignon reigns as king. But California boasts a wealth of other impressive appellations. The much larger and climatically varied Sonoma County also produces world class California Cabernet, along with wonderful examples of California Pinot Noir and Zinfandel.
Fine versions of Cabernet and Zinfandel hail from Paso Robles as well, which is also gaining fame with Rhone varietals like Syrah and Grenache. As for Pinot Noir, terrific examples can be found from AVA's such as Anderson Valley, Carneros, Santa Lucia Highlands and Sta. Rita Hills. Wineries in Santa Barbara and San Luis Obispo Counties are making wonderful Syrahs, and the Sierra Foothill appellations are proving to be an experimental hotbed, with Italian and Spanish varietals employed to great effect.
This of course is a mere sketch. The subject of California red wine is as deep and broad as an ocean, and absolutely a joy to explore!
WWH31BSYC02_2000
Item#
43211