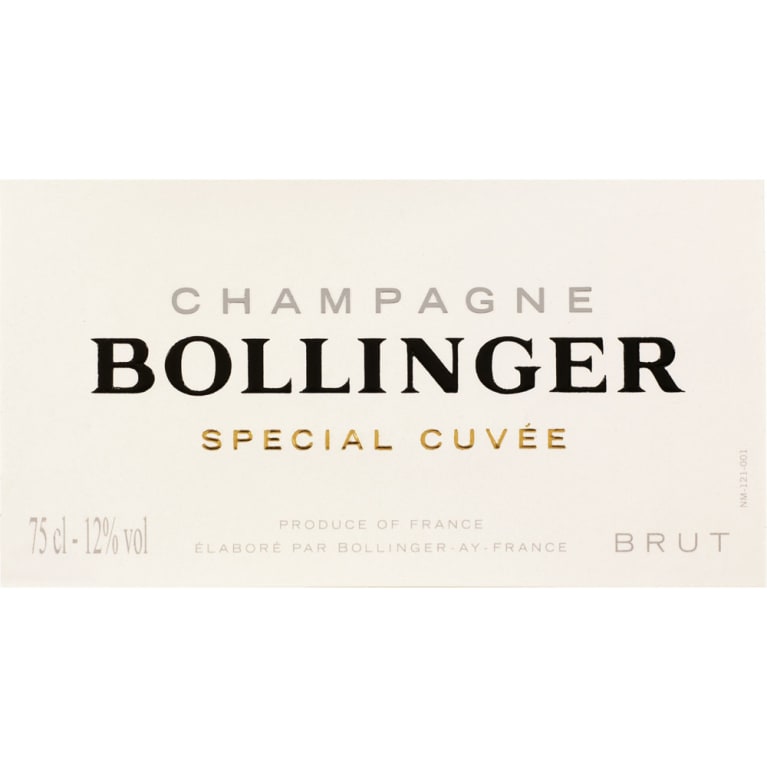 Bollinger Brut Special Cuvee
Ships Tomorrow
Limit
0
bottles
per customer
Winemaker Notes
A golden color, distinctive of black grape varieties. Very fine bubbles. On the nose, it has a beautiful aromatic complexity, ripe fruit, and spicy aromas, with hints of roasted apples, apple compote, and peaches. On the palate, there is a subtle combination of structure, length, and vivacity. The bubbles are like velvet. Flavors of pear, brioche and spicy aromas, notes of fresh walnut.
Pair with all fish, especially sushi and sashimi, shellfish such as shrimp, prawns, crayfish and grilled lobster, poultry and white meat, cashews, parmesan or prosciutto.
Critical Acclaim
All Vintages
60% Pinot Noir, 25% Chardonnay, 15% Meunier sourced from more than 300 crus, including 85% grands and premiers crus; 15% fermented in old oak barrels. The complexity and richness of Special Cuvée is unparalleled among the entry non-vintage blends of every Champagne house, short of ascending to the mesosphere of Krug. Its grand recipe explains why, built on incredible depth of 50%-60% reserves. Triumphant complexity is a given at Bollinger, but it's the dynamic freshness and vitality that really set it apart as one of the most affordable Champagne benchmarks.
COMMENTARY: In my nearly five decades of working in the wine trade—I started young—Bollinger has been my number one Champagne of choice. This wine has been consistently excellent. The current Special Cuvée Brut seems a bit fresher and brighter than past efforts. TASTING NOTES: This wine is beautiful. Its aromas and flavors of ripe apples and light yeasty notes—enhanced with a touch of chalkiness—should make it an excellent choice with clams and linguine in a reduction sauce of white wine, slivered garlic, and freshly-cracked black pepper. (Tasted: September 24, 2018, San Francisco, CA)
Bollinger's NV Special Cuvée knocks it out of the park. Made from 60% Pinot Noir, 25% Chardonnay and the rest Pinot Meunier, with 30% of the blend brought up in barrels, it boasts a rich, deep, medium to full-bodied style as well as terrific notes of lemon curd, crème brûlée, caramelized stone fruits, and hints of toasty nuttiness that develop with time in the glass. It's a big, rich Champagne that stays balanced and pure. Beautiful stuff.
There's a pleasing, snappy quality to the acidity framing this elegant Champagne, enlivening accessible flavors of currant, Marcona almond and orchard blossom, with a minerally touch of saline-laced oyster shell that lingers on the finish. Drink now through 2022.
Fine bubbles combine nicely with the cooked apples, pie crust and lemon rind. Some biscuit, too. Full body. Layered and creamy with a crisp finish. Always delicious. Drink now.
As always with this producer, this iconic nonvintage cuvée is dominated by Pinot Noir that gives impressive richness as well as ripe stone fruits. Wood fermentation adds further complexity as does the age of this bottling before release. Drink this Champagne now.
Cool and generous, this is a bold, lusty Champagne with pinot-inspired scents of violets and flavors of dark berries, the wine structured by its time in oak. It's a vinous Brut, suited to roast fish and light game.
Disgorged in the second half of 2019, the latest release of Bollinger's NV Brut Special Cuvée is based on the 2015 vintage, complemented by around 60% reserve wines. The wine is still quite tightly wound after its recent disgorgement, opening in the glass with notes of crisp yellow orchard fruit, freshly baked bread, clear honey and orange peel, with little sign of the nuttiness to come with bottle age. On the palate, it's medium to full-bodied, muscular and incipiently textural, with a deep core, ripe acids and a pinpoint mousse. This isn't the most incisive vintage of Special Cuvée, but it's powerful and vinous and will have fine gastronomic potential with a little bottle age. Rating: 91+
View More
In 1829, Champagne Bollinger introduced an instantly recognizable, dry, toasty style that connoisseurs around the globe have coveted ever since. Six generations of the Bollinger family have maintained that trademark style, and Bollinger is one of the rare Grande Marque houses to be owned, controlled and managed by the same family since it was founded.
With 399 acres of vineyards situated in the best Grands Crus and Premiers Crus villages, Bollinger relies on its own estate for nearly two-thirds of its grape requirements, including the Pinot Noir that gives its Champagne its distinctive roundness and elegance. Bollinger is one of a select few houses that can control the quality of its grape supply so carefully.
Bollinger is renowned for its stringent quality standards. It adheres to traditional methods, including individual vinification of each marc and cru, barrel fermentation (it is the last Champagne house to employ a full-time cooper) and extra-aging on the lees prior to disgorgement.
Members of the British Royal Court were among the first to embrace Bollinger's unmistakable quality, and Queen Victoria made Bollinger the exclusive purveyor to the Court by Royal Warrant in 1884. Besides royalty, loyal devotees have included heads of state, celebrities and even famous fictional characters: Agent 007, James Bond, demands the exclusive Champagne Bollinger.
Associated with luxury, celebration, and romance, the region, Champagne, is home to the world's most prized sparkling wine. In order to bear the label, 'Champagne', a sparkling wine must originate from this northeastern region of France—called Champagne—and adhere to strict quality standards. Made up of the three towns Reims, Épernay, and Aÿ, it was here that the traditional method of sparkling wine production was both invented and perfected, birthing a winemaking technique as well as a flavor profile that is now emulated worldwide.
Well-drained, limestone and chalky soil defines much of the region, which lend a mineral component to its wines. Champagne's cold, continental climate promotes ample acidity in its grapes but weather differences from year to year can create significant variation between vintages. While vintage Champagnes are produced in exceptional years, non-vintage cuvées are produced annually from a blend of several years in order to produce Champagnes that maintain a consistent house style.
With nearly negligible exceptions, . These can be blended together or bottled as individual varietal Champagnes, depending on the final style of wine desired. Chardonnay, the only white variety, contributes freshness, elegance, lively acidity and notes of citrus, orchard fruit and white flowers. Pinot Noir and its relative Pinot Meunier, provide the backbone to many blends, adding structure, body and supple red fruit flavors. Wines with a large proportion of Pinot Meunier will be ready to drink earlier, while Pinot Noir contributes to longevity. Whether it is white or rosé, most Champagne is made from a blend of red and white grapes—and uniquely, rosé is often produce by blending together red and white wine. A Champagne made exclusively from Chardonnay will be labeled as 'blanc de blancs,' while ones comprised of only red grapes are called 'blanc de noirs.'
A term typically reserved for Champagne and Sparkling Wines, non-vintage or simply "NV" on a label indicates a blend of finished wines from different vintages (years of harvest). To make non-vintage Champagne, typically the current year's harvest (in other words, the current vintage) forms the base of the blend. Finished wines from previous years, called "vins de reserve" are blended in at approximately 10-50% of the total volume in order to achieve the flavor, complexity, body and acidity for the desired house style. A tiny proportion of Champagnes are made from a single vintage.
There are also some very large production still wines that may not claim one particular vintage. This would be at the discretion of the winemaker's goals for character of the final wine.