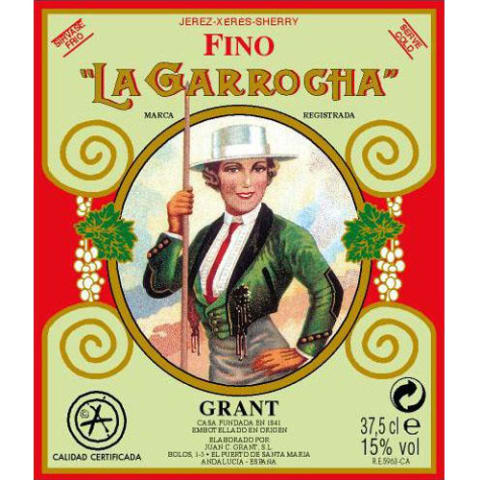 Bodegas Grant Fino La Garrocha (375ML half-bottle)
Out of Stock

(was $14.99)
Winemaker Notes
This pale-hued, biologically-aged, dry sherry has a veil of salinity. The palate showcases crushed salt, white flowers, fresh almonds, and roasted apples. The finish is both delicate and complex.
Fino La Garrocha should be served cold (45°F).
One of only three remaining completely-family owned producers, Bodegas Grant is located in the heart of the town of El Puerto de Santa María. Grant has always been in the same family since its founding in 1841. Edmundo Grant and his son Edmundo, the fourth and fifth generation, are the current caretakers of this petite bodega. Their family traces its name back to their Scottish ancestors, yet they are as elegantly andaluz as they come.
Their cellar lies on the Calle de los Bolos in close proximity to the Guadalete River, which offers ample humidity to the bodega, which in turn nourishes the rich flor found at the winery. This and their proximity to the Bay of Cadíz lend this historic bodega a refined terruño.
The Grant family are former almacenistas who only recently began to estate bottle less than one thousand cases per year of half-bottles. Although they do not own any vineyards, they primarily source grapes from the famed Pago Balbaína. The wines have found many fans with their straightforward honesty and a certain rustic, satisfying character which is uniquely El Puerto de Santa María. Their iconic labels depict the La Garrocha, a reference to a traditional Andalusian dance performed with a stick while on horseback. The garrocha requires a lot of skill, traditionally demonstrated in beautiful artistic displays of horsemanship to music. In Spain, it is regarded as a true art form. Bodegas Grant exudes a similar class, refinement, and charm.
Known more formally as Jerez de la Frontera, Jerez is a city in Andalucía in southwest Spain and the center of the Jerez region and sherry production. Sherry is a mere English corruption of the term Jerez, while in French, Jerez is written, Xérès. Manzanilla is the freshest style of sherry, naturally derived from the seaside town of Sanlúcar de Barrameda.
Sherry is a fortified wine that comes in many styles from dry to sweet. True Sherry can only be made in Andalucía, Spain where the soil and unique seasonal changes give a particular character to its wines. The process of production—not really the grape—determine the type, though certain types are reserved for certain grapes. Palomino is responsible for most dry styles; Pedro Ximénez and Muscat of Alexandria are used for blending or for sweet styles.
EWLSPGRTFINOA_0
Item#
148578