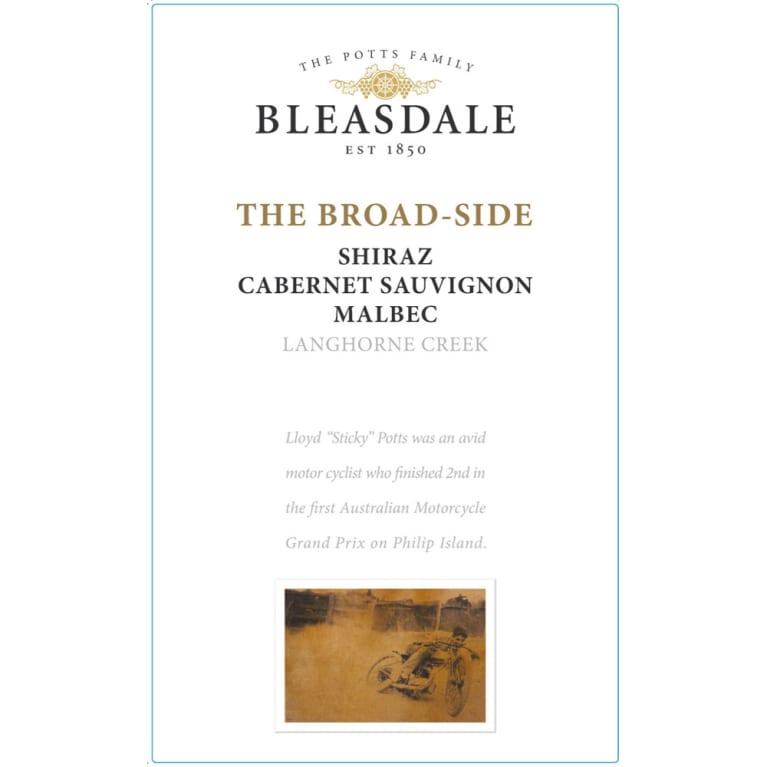 Bleasdale The Broad-Side Red Blend 2012
Out of Stock

(was $17.99)
Winemaker Notes
The great Australian blend of Shiraz and Cabernet Sauvignon with a touch of Malbec. The wine displays plum and blackcurrant, chocolate and boysenberry spice from the harmonious blend of these varieties. A juicy palate with persistent flavor and smooth velvety tannins.
Enjoy with a hearty winter stew or a summer BBQ.
Bleasdale's vineyards were founded in 1850 by Frank Potts, making Bleasdale one of Australia's oldest family-owned wineries. Having just celebrated its 150th anniversary, it is the second oldest continuously operated family-owned winery besides Yalumba located in the Barossa Valley.
Bleasdale, which has 50 hectares under production, produces around 100,000 cases in total. The principal varietals are Cabernet Sauvignon, Shiraz, Malbec and the white varietal Verdelho. All the red wines produce the distinctive style of upfront fruit with a soft textural feel to them.
They also produce in limited quantities a red blend that is named Frank Potts after the founder and uses all five Bordeaux varietals. It is the winery's flagship wine and for the money represents one of the better values in all of Australia. It is definitely a statement wine and illustrates the high quality of fruit that comes out of the Langhorne Creek area.
Although Bleasdale is firmly connected to its past, it is nonetheless forward-looking with its eye on the 21st century. A new cellar is just now being completed with state-of-the-art technology, alongside a new hospitality area. The old part of the winery is on the National Trust and National Heritage register.
South Australia is the historic heart of Australian wine, a great wine capital of the world, and home to some of the most famous regions. It produces more than 80% of Australia's premium wine from some of the oldest vines in the world. There is an abundance of varieties and wide spectrum of styles to explore. From the rogue to refined, discover Australian wines that are far from ordinary.
With hundreds of red grape varieties to choose from, winemakers have the freedom to create a virtually endless assortment of blended red wines. In many European regions, strict laws are in place determining the set of varieties that may be used, but in the New World, experimentation is permitted and encouraged resulting in a wide variety of red wine styles. Blending can be utilized to enhance balance or create complexity, lending different layers of flavors and aromas. For example, a red wine blend variety that creates a fruity and full-bodied wine would do well combined with one that is naturally high in acidity and tannins. Sometimes small amounts of a particular variety are added to boost color or aromatics. Blending can take place before or after fermentation, with the latter, more popular option giving more control to the winemaker over the final qualities of the wine.
How to Serve Red Wine
A common piece of advice is to serve red wine at "room temperature," but this suggestion is imprecise. After all, room temperature in January is likely to be quite different than in August, even considering the possible effect of central heating and air conditioning systems. The proper temperature to aim for is 55° F to 60° F for lighter-bodied reds and 60° F to 65° F for fuller-bodied wines.
How Long Does Red Wine Last?
Once opened and re-corked, a bottle stored in a cool, dark environment (like your fridge) will stay fresh and nicely drinkable for a day or two. There are products available that can extend that period by a couple of days. As for unopened bottles, optimal storage means keeping them on their sides in a moderately humid environment at about 57° F. Red wines stored in this manner will stay good – and possibly improve – for anywhere from one year to multiple decades. Assessing how long to hold on to a bottle is a complicated science. If you are planning long-term storage of your reds, seek the advice of a wine professional.
AMR16814_2012
Item#
154396