Blanchard Perez Cava Brut
Ships today if ordered in next 3 hours
Winemaker Notes
Blanchard Perez Brut is straw yellow with green highlights in appearance. The nose is fresh and expressive with primary aromas of green apple and pear along with dried nuts and fresh baked bread notes. On the palate notes of ripe fruit with expressive citrus character are accompanied by a hint of Mediterranean herbs. Balanced acidity, weight and texture result in a long and lively finish.
This sparkling wine has the perfect balance of dryness, bubbles and fruit to enrich any dining experience. It is a is a fantastic choice to serve alongside veggies, shrimp and shellfish, or delicious by itself!
Blend: 33% Macabeo, 33% Xarel-lo, 34% Parellada
Critical Acclaim
All Vintages
Fresh and lemony nose with a floral hint. A fine twist of cracker yeastiness, white pears, green tea leaf and apricot. Very creamy and dissolved on the palate, showing fine perlage and a flavorful, generous finish. A well-made Cava. 34% parellada and 33% macabeo and 33% xarel-lo. From organically grown grapes.
View More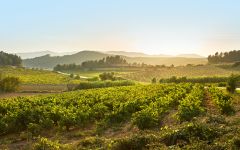 For Andrés Blanchard Perez, whose family has a tradition in the wine industry dating back four generations, this ORGANIC CAVA honors both his family's roots in Spain and the passion for quality and excellence handed down by his grandfather Florentino Perez Perez.
Andrés has traditions of his own; partnering with Javier Catena the two started Bodega Cuarto Dominio in 2009 and their fresh approach to Malbec has earned 11 consecutive vintages of 90+ scores. In addition, he produces award-winning white wines at Blanchard y Lurton, a project with François Lurton. Both wineries were included in a short list of the most innovative wine projects in Argentina by Wine Enthusiast.
What is Cava?
Spain adopted the word, cava, which technically means 'cellar' in Catalan, to describe their sparkling wines made using the traditional method. While this style was first created outside of Spain in the 1600s, its birthplace inside of Spain came in 1872 when Jose Raventós of Codorníu first produced traditional method sparkling wine in the town of San Sadurní d'Anoia. Uniquely, the Cava denomination isn't restricted to one geographical area but rather, it spans eight total wine regions. However, about 90% of Spain's total production of Cava, Spanish sparkling wine happens within Catalonia, and about 75% is produced within the borders of San Sadurní d'Anoia, inside the smaller Catalan region of Penedès. In 2019, Spain registered nearly 38,000 hectares of vineyards for Cava production, compared to just under 34,000 in Champagne.
How is Cava sparkling wine made?
Cava, like many other sparkling wines of the world is made using the traditional method, or "Champagne method," or método tradicional in Spanish, in which the second fermentation (the one that makes the bubbles) takes place inside the bottle. With this method, spent yeast cells remain in contact with the wine during bottle aging, giving it a creamy mouthful, a toasted bread or brioche quality and in many cases, the capacity to age.
What are the Cava wine grapes?
The mainstay Cava grape varieties include Macabeo, Parellada, and Xarel-lo. Macabeo, also known as Viura, lends pleasant aromatics to the blend, while Parellada adds acidity and finesse. Xarel-lo is the grape that gives body, earth and greengage characteristics to Cava. Occasionally Chardonnay is used as a blending grape or sole variety in making Cava wine. Governmental inclusion approval was awarded in 1986 but still, Chardonnay makes up only a fraction of total vineyard area. For rosé, in Spanish called rosado, the local Trepat and Garnacha can be used, along with Pinot Noir (first permitted in 1998 for rosado and in 2007 for white Cavas).
Cava Tasting Profile
Since Cava is a sparkling wine produced on the Mediterranean where temperatures are warmer and there is more sunshine compared with Champagne, you can expect that Cava sparkling wine will generally have a gentler acid profile compared with its French counterpart. Furthermore, especially when the indigenous varieties are used, common Cava flavors will include citrus peel, fennel, wildflower, lemon blossom and flint or saline. Most Cava is produced in the Brut style, so dry, with a slightly rounder finish that balances brightness with brioche notes and supple fruit. Brut Nature or Zero Dosage examples are bone dry, whereas Extra-Dry Cava will be slightly sweet and a Demi-Sec Cava will have the highest sweetness level.
Cava Pairings
One of the best things about pairing Cava wine is you can drink it on its own or with just about any food! But if you want to focus on bringing out Cava's uniquely brilliant bouquet and citrus notes, rich or seafood-centric dishes are perfect food pairings for Cava. Try Cava with butter poached lobster, seafood risotto, puff pastry and caramelized onions or fried chicken.
A term typically reserved for Champagne and Sparkling Wines, non-vintage or simply "NV" on a label indicates a blend of finished wines from different vintages (years of harvest). To make non-vintage Champagne, typically the current year's harvest (in other words, the current vintage) forms the base of the blend. Finished wines from previous years, called "vins de reserve" are blended in at approximately 10-50% of the total volume in order to achieve the flavor, complexity, body and acidity for the desired house style. A tiny proportion of Champagnes are made from a single vintage.
There are also some very large production still wines that may not claim one particular vintage. This would be at the discretion of the winemaker's goals for character of the final wine.