Product Details
---
Varietal
---
Region
---
Producer
---
Vintage
2008
---
Size
750ML
---
ABV
13%
---
Features
Boutique
---
Winemaker Notes
Rosso Di Verzella Etna Rosso is red ruby. The aromas are ethereal, intense, with hints of vanilla and ripe fruit. On the palate, this wine is elegant, harmonic, and remarkably persistent.
Professional Ratings
Wine & Spirits

Verzella is on the north side of Etna at 2,300 feet, where these nerello mascalese and cappuccio vines average 40 years of age. The wine is impressive for its detail, with varied layers of flavor coming in and out of focus at different depths and perspectives. You might find strawberry, pomegranate, plum, herbs, stem spice and dried rose as you taste this wine over course of several hours in a decanter. Serve it with meats roasted in a North African spice rub.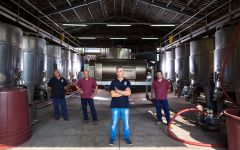 At the end of the 1800's, Giuseppe Benanti, grandfather of Dr. Giuseppe Benanti, began the production of wines on one of his father's old farms on the slopes of Mount Etna, at Viagrande (Catania). In 1988, Giuseppe Benanti revived the family's old passion, with an extensive and selective study of the Etnean soils highly devoted to viticulture. He also investigated particular clones of indigenous vines and new oenological techniques to reproduce ancient fragrances using the most modern practices of vinification, in a perfect union of history and reality. From this five year study, wines of unique taste were produced recreating old flavors and keeping them intact over time.
Our wines have a strong personality and carry the culture and passion for wine of the Benanti family, always driven by respect for the places, terroir and old 'palmenti'. This passion, after revealing the marvels of the Etnean territory, has guided them to Pantelleria and then Pachino. Today the company, also run by Giuseppe Benanti's sons, Antonio and Salvino, is placed in a market range of high quality level products and the request for its wines is strongly increasing. This is mainly due to the quality of its wines, known throughout Italy and abroad, and attested by many awards given annually by the most important national and international competitions.
With hundreds of red grape varieties to choose from, winemakers have the freedom to create a virtually endless assortment of blended red wines. In many European regions, strict laws are in place determining the set of varieties that may be used, but in the New World, experimentation is permitted and encouraged resulting in a wide variety of red wine styles. Blending can be utilized to enhance balance or create complexity, lending different layers of flavors and aromas. For example, a red wine blend variety that creates a fruity and full-bodied wine would do well combined with one that is naturally high in acidity and tannins. Sometimes small amounts of a particular variety are added to boost color or aromatics. Blending can take place before or after fermentation, with the latter, more popular option giving more control to the winemaker over the final qualities of the wine.
How to Serve Red Wine
A common piece of advice is to serve red wine at "room temperature," but this suggestion is imprecise. After all, room temperature in January is likely to be quite different than in August, even considering the possible effect of central heating and air conditioning systems. The proper temperature to aim for is 55° F to 60° F for lighter-bodied reds and 60° F to 65° F for fuller-bodied wines.
How Long Does Red Wine Last?
Once opened and re-corked, a bottle stored in a cool, dark environment (like your fridge) will stay fresh and nicely drinkable for a day or two. There are products available that can extend that period by a couple of days. As for unopened bottles, optimal storage means keeping them on their sides in a moderately humid environment at about 57° F. Red wines stored in this manner will stay good – and possibly improve – for anywhere from one year to multiple decades. Assessing how long to hold on to a bottle is a complicated science. If you are planning long-term storage of your reds, seek the advice of a wine professional.
A large, geographically and climatically diverse island, just off the toe of Italy, Sicily has long been recognized for its fortified Marsala wines. But it is also a wonderful source of diverse, high quality red and white wines. Steadily increasing in popularity over the past few decades, Italy's fourth largest wine-producing region is finally receiving the accolades it deserves and shining in today's global market.
Though most think of the climate here as simply hot and dry, variations on this sun-drenched island range from cool Mediterranean along the coastlines to more extreme in its inland zones. Of particular note are the various microclimates of Europe's largest volcano, Mount Etna, where vineyards grow on drastically steep hillsides and varying aspects to the Ionian Sea. The more noteworthy red and white Sicilian wines that come from the volcanic soils of Mount Etna include Nerello Mascalese and Nerello Cappuccio (reds) and Carricante (whites). All share a racy streak of minerality and, at their best, bear resemblance to their respective red and white Burgundies.
Nero d'Avola is the most widely planted red variety, and is great either as single varietal bottling or in blends with other indigenous varieties or even with international ones. For example, Nero d'Avola is blended with the lighter and floral, Frappato grape, to create the elegant, Cerasuolo di Vittoria, one of the more traditional and respected Sicilian wines of the island.
Grillo and Inzolia, the grapes of Marsala, are also used to produce aromatic, crisp dry Sicilian white. Pantelleria, a subtropical island belonging to the province of Sicily, specializes in Moscato di Pantelleria, made from the variety locally known as Zibibbo.
WWH123894_2008
Item#
117708