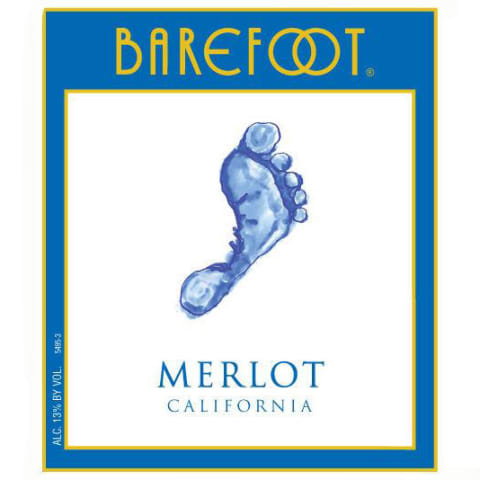 Winemaker Notes
This classic varietal is well known for its rich personality and taste. Silky blend of red cherry and plum flavors make the Merlot a delightful treat. A mocha finish is complimented by hints of smoky vanilla oak.
Critical Acclaim
All Vintages
What's not to like about a fresh, spicy budget Merlot with blackberry and cassis?
View More
Founded in 1986, Michael Houlihan and Bonnie Harvey introduced Barefoot Cellars wines. "We loved the name and the concept of being barefoot and living the carefree lifestyle," stated Harvey. They launched the brand with two varietals, Barefoot California Cabernet Sauvignon and Barefoot California Sauvignon Blanc, both in the 1.5 Liter size.
In early 1992, Barefoot Chardonnay was added to the Barefoot repertoire and Barefoot White Zinfandel in late 1993. The wines were recognized by awards, acclaimed wine writers and repeat customers. "We couldn't keep up with the demand which meant that it was time to grow the staff and add more 'Barefooters' to our team! We started working more directly with distributors, hiring merchandisers and sales people," stated Houlihan.
Jennifer Wall, Barefoot Winemaker, was hired in September of 1995. "Barefoot California wines are perfect as everyday dinner wines for wine connoisseurs of all levels of experience," comments Wall. "The wines are affordable, varietally correct, soft and approachable and are immediately ready to drink off the shelf."
In 1996, Barefoot Cellars became a national brand. Chain stores from coast to coast started advertising and selling Barefoot Cellars as the 'Best Buy' and 'Top Value' brand from the California wine country. Barefoot Zinfandel was added to the line in February of 1996. The following year, in 1997, Barefoot Merlot was available.
In July of 1998, Barefoot Bubbly 'Premium' California Champagne was produced featuring an elegant black label decorated with tiny gold bubbles. By New Years, people across the nation were "Getting Barefoot Bubbly and Having a Great Time!"
The Barefoot Reserve program was established in August of 1998 with the release of the Barefoot Reserve Sonoma County Chardonnay. In July of 1999, Barefoot Reserve Sonoma County Pinot Noir was released. Barefoot Reserve Sonoma County Cabernet Sauvignon, Zinfandel, Merlot and Sauvignon Blanc have been recently added to the line. These allocated Reserve wines were created to provide a special occasion wine to customers who enjoy Barefoot Cellars' popular premium price point wines on an everyday basis.
By the time the 1998 holiday season had arrived, Mistle Toe Cellars released Santa Reserve. The following year, a more non-denominational version of the Mistle Toe Cellars label, Holiday Reserve was released. There are now 3 popular varietals available in each of these two labels: Merlot Ho! Ho!, Holiday Chardonnay and Jingle Bell White Zinfandel.
The Barefoot on the Beach Premium Red, Premium White and White Zinfandel labels were released into the marketplace during the summer in 1999. This label depicts a couple walking barefoot with their "Barefoot Wine" on a beautiful sandy beach. This beach label is the perfect image of the romantic California lifestyle.
In May of 2001, Barefoot Bubbly 'Brut Cuvee' California Champagne was released featuring a beautiful white label, also decorated with tiny gold bubbles. This wine is a drier and more sophisticated version of the Barefoot Bubbly 'Premium' California Champagne released in 1998. The Brut Cuvee label is a popular wedding champagne.
Since it's inception, Grape Links, Inc. has supported a multitude of non-profit and charitable organizations including the American Cancer Society, Sonoma County Boys and Girls Club, Ducks Unlimited, Sonoma County Land Trust, California State Parks Foundation, Project Open Hand, Shakespeare in the Park, Sonoma County Task Force of the Homeless, Face to Face, Girl Scouts, and local Police and Fire Departments.
Barefoot Cellars wines are now distributed throughout the United States and exported in Canada, Europe and Asia.
Today the fourth most widely planted red variety in the state, Merlot has much to offer. While it bears similarities to Cabernet Sauvignon (its half-sibling), it tends to be lower in both acidity and tannins, giving Merlot wines a mouthfeel that is often perceived as soft, round and plush. These qualities make it an ideal blending partner for Cabernet, the two complementing each other throughout.
Merlot arrived relatively late to the California wine scene. It wasn't until the 1970's when producers like Louis Martini, Sterling and Matanzas Creek—influenced by European Merlot blends—began crafting single varietal versions. These trend-setting bottles opened the eyes of others in the California wine scene and spurred increased plantings. From there, the variety's lush drinkability led to a surge in popularity, then overplanting (some of it on unsuitable sites) and finally a backlash that was turbo-charged by the infamous 2004 film, Sideways. What most viewers didn't realize was that, as much as Miles derided the variety, the prized wine of his collection—a 1961 Château Cheval Blanc—is made from a blend of Merlot with Cabernet Franc.
Fine examples of California Merlot—either as a single varietal wine or as part of a blend—can be found from Napa Valley, Sonoma County, the Central Coast and most regions around the state. Merlot wines offer a ripe, sensual mouthful of plummy fruit, suggestions of mint, herbs and vanilla, all carried along by an approachable structure and often, a great potential for improving with age.
PBC2112449_0
Item#
132163