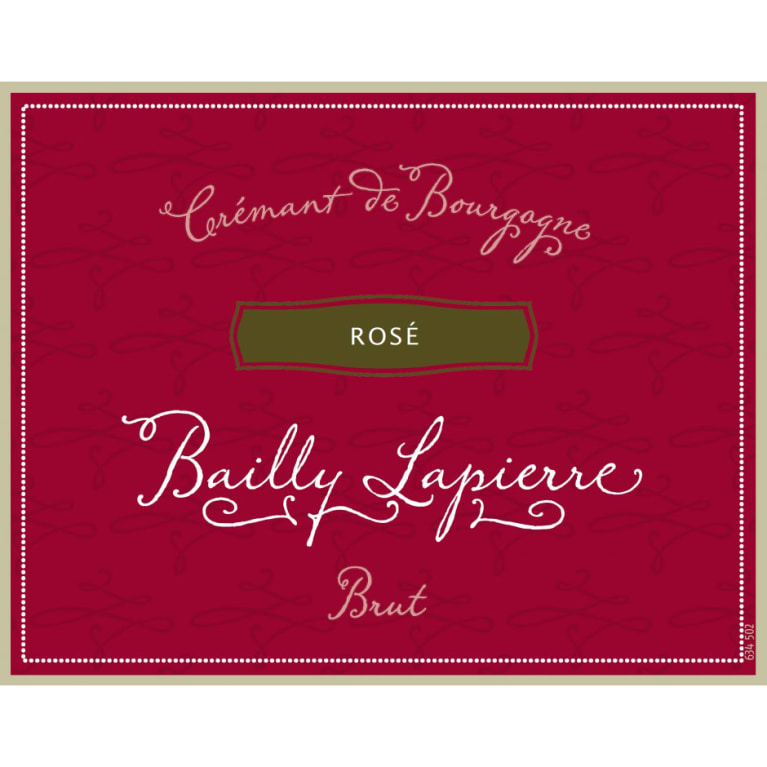 Bailly-Lapierre Brut Rose
Winemaker Notes
This Rosé Crémant comes from lightly steeped Pinot Noir and Gamay grapes. The first variety brings a winey character, the second its unmistakable aromas of red berry fruit. A wine for easy enjoyment par excellence, it possesses a delicious softness free of anything sugary. Entirely fresh and with real finesse, its mousse displays an almost frothy, airy lightness.
Bailly, our village here in Burgundy, is the birthplace of the AOC Crémant de Bourgogne.Since 1972, in an underground quarry providing unique natural conditions, we have produced sparkling wines that belong to a world of enchantment. They come from superb noble grapes, hand-harvested then vinified and patiently matured. Our wines, sprung from the bedrock yet finely chiselled, carryone away with their intense, truly mineral freshness.
A legendary wine region setting the benchmark for Pinot Noir and Chardonnay worldwide, Burgundy is a perennial favorite of many wine lovers. While the concept of 'terroir' reigns supreme here—soil type, elevation and angle of each slope—this is a region firmly rooted in tradition. Because of the Napoleonic Code requiring equal distribution of property and land among all heirs, vineyard ownership in Burgundy is extremely fragmented, with some growers responsible for just one or two rows of vines. This system has led to the predominance of the "negociant"—a merchant who purchases fruit from many different growers to vinify and bottle together.
Burgundy's cool, continental climate and Jurassic limestone soils are perfect for the production of elegant, savory and mineral-driven Chardonnay and Pinot Noir with plenty of acidity. Vintage variation is of particular importance here, as weather conditions can be variable and unpredictable. In some years spring frost and hail must be overcome.
The Côte d'Or, a long and narrow escarpment, forms the heart of the region, split into the Côte de Nuits to the north and the Côte de Beaune to the south. The former is home to many of the world's finest Pinot Noir wines, while Chardonnay plays a much more prominent role in the latter, though outstanding red and white are produced throughout. Other key appellations include the Côte Chalonnaise, home to great value Pinot Noir and sparkling Crémant de Bourgogne. The Mâconnais produces soft and round, value-driven Chardonnay while Chablis, the northernmost region of Burgundy, is a paradise for any lover of bright, acid-driven and often age-worthy versions of the grape.
What are the different types of sparkling wine and Champagne?
Beloved for its lively bubbles, sparkling wine is the ultimate beverage for any festivity, whether it's a major celebration or a mere merrymaking of nothing much! Sparkling wine is made throughout the winemaking world, but only can be called "Champagne" if it comes from the Champagne region of France and is made using what is referred to as the "traditional method." Other regions have their own specialties—Crémant in other parts of France, Cava in Spain and Prosecco in Italy, to name a few. New World regions like California, Australia and New Zealand enjoy the freedom to make many styles of sparkling wine, with production methods and traditions defined locally. In a dry style, Champagne and sparkling wine goes with just about any type of food. Sweet styles are not uncommon and among both dry and sweet, you'll find white, rosé—or even red!—examples.
How is sparkling wine and Champagne made?
Champagne, Crémant, Cava and many other sparkling wines of the world are made using the traditional method, in which the second fermentation (the one that makes the bubbles) takes place inside the bottle. With this method, spent yeast cells remain in contact with the wine during bottle aging, giving it a creamy mouthful, toasted bread or brioche qualities and in many cases, the capacity to age. For Prosecco, the carbonation process usually occurs in a stainless steel tank (before bottling) to preserve the fresh fruity and floral aromas imminent in this style.
What gives sparkling wine and Champagne its bubbles?
The bubbles in sparkling wine are formed when the base wine undergoes a secondary fermentation, which traps carbon dioxide inside the bottle or fermentation vessel.
How do you serve sparkling wine and Champagne?
Ideally for storing sparkling wine and Champagne in any long-term sense, they should be at cellar temperature, about 55F. For serving, cool sparkling wine and Champagne down to about 40F to 50F. (Most refrigerators are colder than this.) As for drinking it, the best glasses have a stem and flute or tulip shape to allow the bead (bubbles) to show.
How long does sparkling wine and Champagne last?
Most sparkling wines like Prosecco, Cava or others around the "$20 and under" price point are intended for early consumption. Sparkling wines made using the traditional method with extended cellar time before release can typically improve with age. If you are unsure, definitely consult a wine professional for guidance.