Azunia Organic Blanco Tequila
Out of Stock

(was $49.99)
Ships today if ordered in next 8 hours
Distiller Notes
Purely un-aged, award-winning Azuñia Blanco tequila offers a clean floral nose with hints of agave and lemon. Notes of tropical fruits make an appearance as well.
Celebrate with its long finish of light pepper and citrus.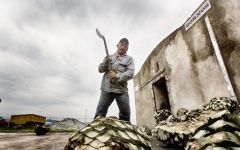 Azunia Tequila is smooth, clean craft quality tequila with authentic flavor from the local terroir in every sip.
It is the exclusive export of Agaveros Unidos de Amatitan and its second- generation, family-owned-and-operated Rancho Miravalle estate. Rancho Miravalle has created exceptional tequila for over 20 years. Made with 100% pure Weber Blue Agave grown in dedicated fields of the Jalisco valleys, we harvest by hand. Then we roast the organic agave in traditional clay hornos to ensure authenticity and depth of flavor.
We then finish with a natural, open-air fermentation process and bottle on-site. Bottling in small batches using a consistent process delivers field-to-bottle quality tequila.
We bottle Azunia Tequila with care, labeling each bottle by hand. Our Master Distiller, Salvador Rivera Cordona, numbers and signs each bottle of Azuñia Black tequila, our 2-year extra-aged special reserve añejo.
Tequila Blanco, or 'white Tequila', is also known as Tequila Plata, or 'silver Tequila'. Its clear color is the result of being bottled immediately after distillation instead of being aged in oak barrels like Tequila Reposado or Anejo. Because of their youth and lack of barrel influence, Blanco Tequilas are thought to offer the purest expression of blue agave available, with notes of citrus and pepper. However, they can also be quite forceful and energetic on the palate without the moderating influence of time and wood.