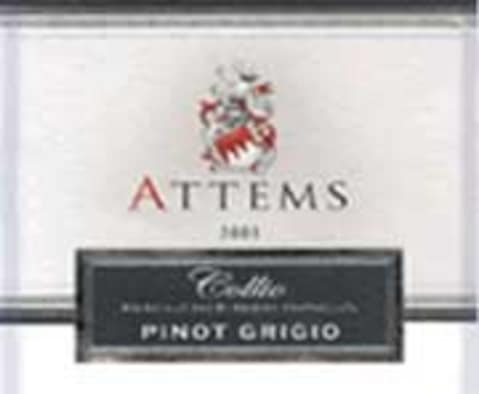 Attems Pinot Grigio 2002
Out of Stock

(was $20.99)
The world-famous Attems wines are grown in Italy's renowned Collio DOC in the northeastern part of the country, bordered by the Alps to the north and the Adriatic Sea to the south. This geography creates a temperate microclimate, and the region's marl and sandstone soils make it perfect for Pinot Grigio and Sauvignon Blanc, as well as for the native Ribolla Gialla and Tocai Friulano that have been harvested here since at least as early as the 18th century.
The Attems family winemaking lineage dates back nearly a millennium. In 1106, records show that the Bishop of Salisbury gave them the estate for the purpose of cultivating vineyards and making wine. After 900 years of wine production, Attems aligned with the renowned Marchesi de' Frescobaldi, one of Italy's most revered wine families. Douglas Attems and the Frescobaldi family celebrate a legacy of friendship founded during their years as students at the University of Florence. The partnership understands that a wine's quality and personality reflect the land it comes from, and they have pledged to further enhance the vines at Collio. Together they have committed to innovative vineyard development and to strategic participation in the global market.
Italian White Wine
The rolling hills and endless coastlines of Italy deliver a unique diversity of soils and climate to foster a number of regional specialties. With a multitude of indigenous varieties that thrive exclusively here, the selection of white wines offers a range of styles and flavors.
The most well-known white variety in Italy is of course Pinot Grigio. Typically found in the northern Italian regions, the light, fresh and easy-drinking options can be found in the Veneto region, while the richer, more complex styles come from Friuli-Venezia Giulia and Trentino-Alto Adige. These two northeast regions are also crafting delicions Pinot Bianco and a regional specialty, Friulano.
In Piedmont, two white regions shine. The crisp and zippy Gavi, made with a Cortese grape, and Arneis, a variety that produces a subtle by dry wine. In the Veneto, the Garganegna grape creates the wine of Soave, a zesty but medium-bodied wine full of rich stone fruit and floral notes.
Further south, you'll find the pretty and floral Falenghina, rich and tropical Grillo and zesty Greco. Head to Sicily to discover the delicious and complex Etna Biancos, made with the Carricante grape in the island's volcanic soils.
If you enjoy a tangy but textured white wine with seafood, head to Sardinia and try out the Vermentino there. The grape is also found in other Italian provinces and is always a delight.
CGM01899_2002
Item#
61937