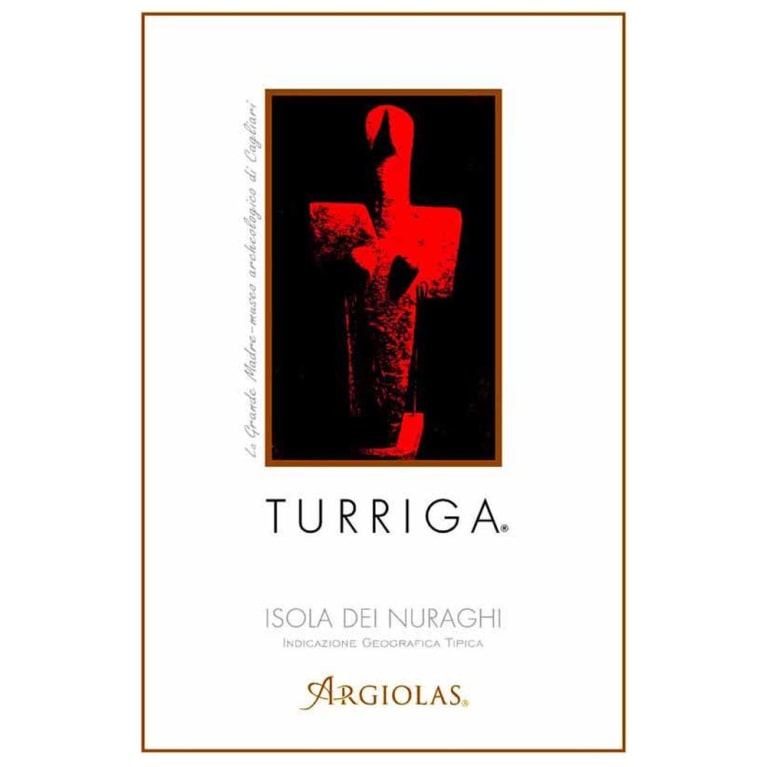 Argiolas Turriga 2005
Out of Stock

(was $75.99)
Winemaker Notes
Rich garnet in color, Argiolas Turriga offers notes of crushed blueberries, black cherries, bittersweet chocolate, tobacco, roasted coffee and Mediterranean herbs. On the palate, this hearty red is concentrated, yet refined and elegant, framed by ripe, firm tannins and is fullbodied with a velvety mouthfeel. Pair this wine with roasted duck, pork or beef. Also works well with rich sauces, such as mole sauce, or sharp, aged cheeses.
Critical Acclaim
All Vintages
The 2005 Isola dei Nuraghi Turriga is incredibly primary at this stage. This dark, textured Turriga reveals impressive weight in its dark fruit, but the bouquet remains rather reticent. Sweet herbal and floral notes resonate on the finish. Today the 2005 remains a fruit-driven Turriga in need of at least another few years in bottle. Turriga is one of the thoroughbreds of the south. Readers who want to learn about this fascinating red may want to look at my recently published vertical on www.erobertparker.com. Anticipated maturity: 2013-2025.
View More
Argiolas is the foremost wine estate on the island of Sardinia producing archetypal wines from native varietals. Antonio Argiolas, who died in 2009 at the age of 102, inherited seven acres of vines from his father in 1938 and was the first on the island to convert to modern viticulture to pursue quality over quantity. His sons, Franco and Giuseppe, replanted the vineyards in the 1980s with the goal of reducing yields and focusing exclusively on Sardinian grapes. Joined by enologist Mariano Murru, the Argiolas family is today recognized as Sardinia's leading wine producer. Sardinia is the second-largest island in the Mediterranean and lies roughly 190 miles west of Italy's mainland. The kingdom of Aragón ruled Sardinia for 400 years and many of its vines came from Spain, including Bovale Sardo, Carignano, and Cannonau. The island can be divided into three principal viticultural areas: the north, influenced by the marine influence of the Costa Smeralda which specializes in Vermentino; the southwest, where Carignano is at its best; and the Trexenta hills north of the capital of Cagliari featuring Nuragus, Monica, and Cannonau. The vineyards of Argiolas are located in the areas of Trexenta and Sulcis where the family controls 600 acres planted to native Sardinian grapes. The Argiolas family has worked diligently to become the leader in Sardinian enology and insists on using native Sardinian vines. The winery produces both a classic and prestige line of wines. The classic wines are fresh in style and bottled under various DOCs, including Vermentino di Sardegna and Cannonau di Sardegna. The late Giacomo Tachis believed southern Sardinia possessed the "true soul of the island," and helped create the prestige offerings of Argiolas, bottled under the Isola del Nuraghi IGT and aged in French barriques. These include Korem, based on Bovale Sardo, and the benchmark Cannonau blend Turriga.
Hailed for centuries as a Mediterranean vine-growing paradise, multiple cultures over many centuries have ruled the large island of Sardinia. Set in the middle of the Tyrrhenian Sea, the Phonoecians, Ancient Rome, and subsequently the Byzantines, Arabs and Catalans have all staked a claim on the island at some point in history. Along the way, these inhabitants transported many of their homeland's prized vines and today Sardinia's modern-day indigenous grape varieties claim multiple origins. Sardinia's most important red grapes—namely Cannonau (a synonym for Grenache) and Carignan—are actually of Spanish origin.
Vermentino, a prolific Mediterranean variety, is the island's star white. Vermentino has a stronghold the Languedoc region of France as well as Italy's western and coastal regions, namely Liguria (where it is called Pigato), Piedmont (where it is called Favorita) and in Tuscany, where it goes by the name, Vermentino. The best Vermentino, in arguably all of the Mediterranean, grows in Sardinia's northeastern region of Gallura where its vines struggle to dig roots deep down into north-facing slopes of granitic soils. These Vermentino vines produce highly aromatic, full and concentrated whites of unparalleled balance.
Today aside from its dedication to viticulture, Sardinia remains committed to maintaining its natural farmlands, bucolic plains of grazing sheep and perhaps most of all, its sandy, sunny, Mediterranean beaches.
With hundreds of red grape varieties to choose from, winemakers have the freedom to create a virtually endless assortment of blended red wines. In many European regions, strict laws are in place determining the set of varieties that may be used, but in the New World, experimentation is permitted and encouraged resulting in a wide variety of red wine styles. Blending can be utilized to enhance balance or create complexity, lending different layers of flavors and aromas. For example, a red wine blend variety that creates a fruity and full-bodied wine would do well combined with one that is naturally high in acidity and tannins. Sometimes small amounts of a particular variety are added to boost color or aromatics. Blending can take place before or after fermentation, with the latter, more popular option giving more control to the winemaker over the final qualities of the wine.
How to Serve Red Wine
A common piece of advice is to serve red wine at "room temperature," but this suggestion is imprecise. After all, room temperature in January is likely to be quite different than in August, even considering the possible effect of central heating and air conditioning systems. The proper temperature to aim for is 55° F to 60° F for lighter-bodied reds and 60° F to 65° F for fuller-bodied wines.
How Long Does Red Wine Last?
Once opened and re-corked, a bottle stored in a cool, dark environment (like your fridge) will stay fresh and nicely drinkable for a day or two. There are products available that can extend that period by a couple of days. As for unopened bottles, optimal storage means keeping them on their sides in a moderately humid environment at about 57° F. Red wines stored in this manner will stay good – and possibly improve – for anywhere from one year to multiple decades. Assessing how long to hold on to a bottle is a complicated science. If you are planning long-term storage of your reds, seek the advice of a wine professional.
WBO30075287_2005
Item#
106100