Winemaker Notes
The long, cool ripening period of the 2000 vintage contributed deep, red-purple color and concentrated dark fruit and chocolate character to our Merlot, and barrel aging imparted subtle notes of vanilla. This full-bodied wine features soft, round tannins and a well-balanced structure. The elegant, lingering finish of black plum and chocolate promises exquisite bouquet development in the bottle. Our Arboleda Merlot is delicious with a wide variety of roasted or grilled meats.
Alcohol: 14%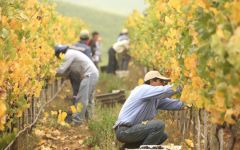 Arboleda wines were born in 1999 as part of the shared dream that inspired Robert Mondavi and Eduardo Chadwick to realize the potential of Chile as a world class producer of fine wines. The name "Arboleda" in Spanish means "grove of trees" and is a tribute to the native Chilean trees that have been preserved within the vineyards that produce the Arboleda grapes. The source of the Arboleda grapes comes from two self contained estates within the valley. A stunning hillside property some 40kms inland was acquired and planted in 2000 with a selection of red grape varieties. This property was named "Las Vertientes" due to its natural springs of water. Arboleda red wines aim for complete ripeness, full bodied with high concentration of fruit, complexity and balance.
Arboleda white wines aim to be fresh, crispy with high acidity and intense aromatics. Therefore the vineyards were planted during 2005 in the proximity to the sea, only 14 kms from the Pacific Ocean in a property called "Chilhue", the place of sea gulls in native Mapuche indian language.
Tied to the history of the so-called "lost grape of Bordeaux," Carmenѐre, the story of Chilean Merlot is a fascinating one. For decades in Chile the former was actually thought to be Merlot, so the two were typically planted together and harvested at the same time. Since Merlot is an early-ripening variety and Carmenѐre much later-ripening, the resulting wines often tasted unripe and vegetal. Not until 1994 was Chilean Carmenѐre identified correctly. As awareness grew, growers and winemakers began handling both grapes more optimally, leading to significant improvement in the wines.
Today Merlot ranks as the third most planted variety in Chile, behind Cabernet Sauvignon and Sauvignon Blanc. It is mostly found in the following valley DO's, from north to south: Maipo, Cachapoal, Colchagua, Curicó and Maule. It can appear both in blends or on its own. Either way, Chilean Merlot tends to show characteristic aromas and flavors of ripe plums, dark berries and herbs, often accented by oak, with a mouthfeel that is round and full.
AMR11544_2000
Item#
49480