Andis Painted Fields Red Blend 2018
Out of Stock

(was $25.99)
Winemaker Notes
A heritage blend of traditional Amador grapes, the 2018 Painted Fields puts the distinct regionality, a prerequisite for any world-class wine—of the Sierra Foothills on full display. The mouthwatering acidity and freshness derived from high-elevation plantings lends a high-toned edge to the deep concentration and mountainous complexity that come from abundant sunshine and rocky, granitic soils.
Blend: 44% Barbera, 20% Petite Sirah, 12% Zinfandel, 12% Grenache, 12% Malbec
Critical Acclaim
All Vintages
Tart cherry and sweet earth combine for a pleasure ride powered by 44% Barbera, 20% Petite Sirah, 12% Zinfandel, 12% Grenache, and 12% Malbec. Meaty mouthfeel, with white pepper, rosemary, and rhubarb alongside a defined acidity. Cinnamon and wild strawberry are precise. Balanced and hearty, with a 14.7% statement.
View More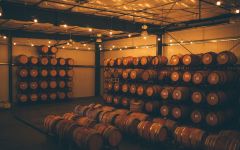 Opened in November of 2010, Andis Wines brings a modern and fresh approach to Amador County's winemaking region. Their focus: seeking out the best vineyards in the Sierra Foothills to craft delicious wines with balance, character, complexity and varietal correctness. Andis' winemaking team, Mark Fowler and consulting winemakers, Philippe Melka & Maayan Koschitzky, bring a fresh, modern approach to Sierra Foothills AVA, using both traditional and innovative winemaking approaches, which have garnered 90+ point scores in Wine Spectator and Wine Enthusiast, glowing reviews in print and online media, and placements in some of the finest restaurants nationwide.
The winery building is a state-of-the-art winemaking facility built with a "green" design. The spacious tasting room offers panoramic vineyard views of the surrounding Amador wine country, expansive picnic area and a bocce ball court.
As the lower part of the greater Sierra Foothills appellation, Amador is roughly a plateau whose vineyards grow at 1,200 to 2,000 feet in elevation. It is 100 miles east of both San Francisco and Napa Valley. Most of its wineries are in the oak-studded rolling hillsides of Shenandoah Valley or east in Fiddletown, where elevations are slightly higher.
The Sierra Foothills growing area was among the largest wine producers in the state during the gold rush of the late 1800s. The local wine industry enjoyed great success until just after the turn of the century when fortune-seekers moved elsewhere and its population diminished. With Prohibition, winemaking was totally abandoned, along with its vineyards. But some of these, especially Zinfandel, still remain and are the treasure chest of the Sierra Foothills as we know them.
Most Amador vines are planted in volcanic soils derived primarily from sandy clay loam and decomposed granite. Summer days are hot but nighttime temperatures typically drop 30 degrees and the humidity is low, making this an ideal environment for grape growing. Because there is adequate rain throughout the year and even snow in the winter, dry farming is possible.
With hundreds of red grape varieties to choose from, winemakers have the freedom to create a virtually endless assortment of blended red wines. In many European regions, strict laws are in place determining the set of varieties that may be used, but in the New World, experimentation is permitted and encouraged resulting in a wide variety of red wine styles. Blending can be utilized to enhance balance or create complexity, lending different layers of flavors and aromas. For example, a red wine blend variety that creates a fruity and full-bodied wine would do well combined with one that is naturally high in acidity and tannins. Sometimes small amounts of a particular variety are added to boost color or aromatics. Blending can take place before or after fermentation, with the latter, more popular option giving more control to the winemaker over the final qualities of the wine.
How to Serve Red Wine
A common piece of advice is to serve red wine at "room temperature," but this suggestion is imprecise. After all, room temperature in January is likely to be quite different than in August, even considering the possible effect of central heating and air conditioning systems. The proper temperature to aim for is 55° F to 60° F for lighter-bodied reds and 60° F to 65° F for fuller-bodied wines.
How Long Does Red Wine Last?
Once opened and re-corked, a bottle stored in a cool, dark environment (like your fridge) will stay fresh and nicely drinkable for a day or two. There are products available that can extend that period by a couple of days. As for unopened bottles, optimal storage means keeping them on their sides in a moderately humid environment at about 57° F. Red wines stored in this manner will stay good – and possibly improve – for anywhere from one year to multiple decades. Assessing how long to hold on to a bottle is a complicated science. If you are planning long-term storage of your reds, seek the advice of a wine professional.
DBIAWPFRB18_2018
Item#
759427