Alois Lageder Porer Pinot Grigio 2009
Out of Stock

(was $23.99)
Winemaker Notes
This wine holds a brilliant straw-yellow colour. Very perfumed, rich, slightly smoky, uplifted varietal aroma paired with elegant oak spice. Clean, grapey, full-bodied flavour, quite soft and creamy, delicate and with a fresh finish.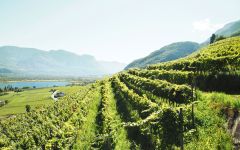 The Alois Lageder winery was established in 1823 and today it is managed by the family's fifth and sixth generation. The winery is located in Magrè, in the southern part of the Alto Adige region. With a holistic approach, creativity and an experimental spirit Alois Lageder produces wines that reflect the diversity of Alto Adige. We are committed to biodynamic wine production and continually expand our knowledge in this area. In addition to the family owned vineyards (135 acres / 55 hectares) the winery collaborates with around 80 grape growers (247 acres / 100 hectares).
 Alois Lageder believes that organic and biodynamic cultivation greatly enriches the landscape. One of the goals of biodynamics is to build a closed farm organism and to increase diversity and fertility. The winery collaborates with mountain farmers who bring their cows and sheep in the winery's vineyards during the autumn and winter months, following the old tradition of transhumance. This helps to increase the vitality of the grapes and the biodiversity.
 A few years ago, Alois Lageder started to cooperate with some local winegrowers from the wider Dolomiti area, which is why Pinot Grigio and Pinot Bianco have the Dolomiti appellation. Today, this collaboration and organic farming are met with enormous interest allowing us to expand this project giving the wines their own name: Terra Alpina. The Terra Alpina wines are characterized by a unique interplay of harsh Alpine and sunny Mediterranean influences.
Italian White Wine
The rolling hills and endless coastlines of Italy deliver a unique diversity of soils and climate to foster a number of regional specialties. With a multitude of indigenous varieties that thrive exclusively here, the selection of white wines offers a range of styles and flavors.
The most well-known white variety in Italy is of course Pinot Grigio. Typically found in the northern Italian regions, the light, fresh and easy-drinking options can be found in the Veneto region, while the richer, more complex styles come from Friuli-Venezia Giulia and Trentino-Alto Adige. These two northeast regions are also crafting delicions Pinot Bianco and a regional specialty, Friulano.
In Piedmont, two white regions shine. The crisp and zippy Gavi, made with a Cortese grape, and Arneis, a variety that produces a subtle by dry wine. In the Veneto, the Garganegna grape creates the wine of Soave, a zesty but medium-bodied wine full of rich stone fruit and floral notes.
Further south, you'll find the pretty and floral Falenghina, rich and tropical Grillo and zesty Greco. Head to Sicily to discover the delicious and complex Etna Biancos, made with the Carricante grape in the island's volcanic soils.
If you enjoy a tangy but textured white wine with seafood, head to Sardinia and try out the Vermentino there. The grape is also found in other Italian provinces and is always a delight.
CHMLGD1901109_2009
Item#
110990