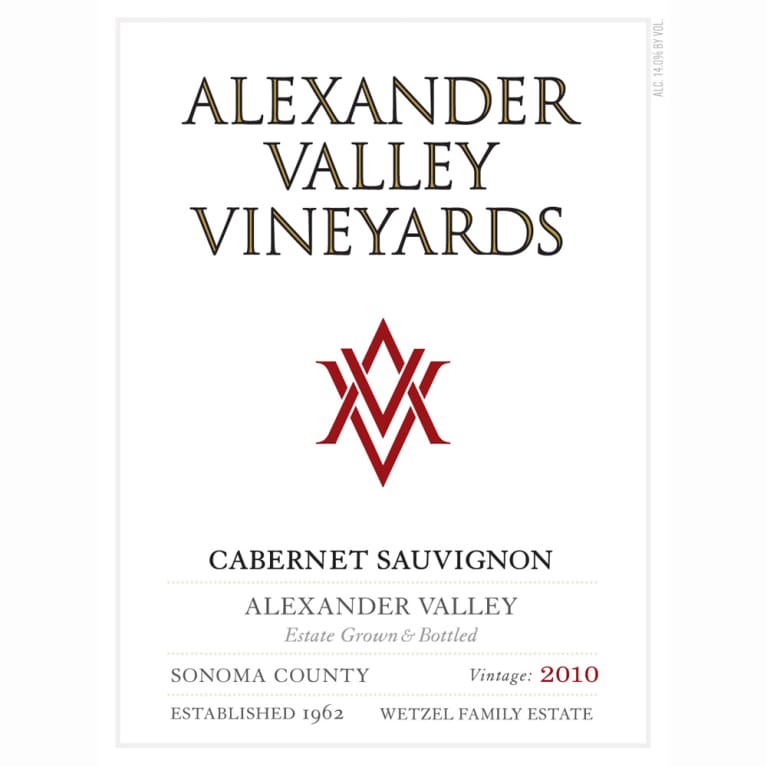 Alexander Valley Vineyards Cabernet Sauvignon (375ML half-bottle) 2010
Winemaker Notes
The 2010 is a blend of all five Bordeaux varietals. The wine was barrel aged for 14 months in French and American oak. This Cabernet Sauvignon shows a bit more restraint than prior vintages. To balance that elegant restraint, Winemaker Kevin Hall added 7% Merlot for structure, as well as 1% each Malbec and Petite Verdot for color and 2% Cabernet Franc for a floral quality.
Try this wine with a bowl of French onion soup, grilled meats or a plate of local cheeses.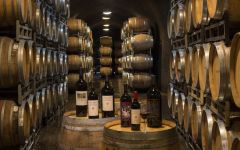 History, tradition, and excellence. Those three words easily describe Alexander Valley Vineyards. In the mid-1800s valley namesake Cyrus Alexander called the land that is home to AVV as "the brightest and best spot in the world." He settled, built his home, and raised his family. In 1962 the Wetzel Family followed his lead, continuing a tradition of family farming. Today the fourth generation of their family is growing up next door to the working winery known around the world as "AVV."
The Wetzel Family Estate spans over 720 acres with vineyards on both sides of the Russian River, from the valley floor up to the Mayacamas mountains. In between there is a wide diversity of micro-climates, elevations, exposures, and soil types. The Russian River defines this land with foggy mornings, warm days, and diurnal temperature swings of 40 to 50 degrees. Their estate vineyards combined with veteran winemaker Kevin Hall's classic winemaking techniques maximize the balance of fruit and acidity in every wine. Barrel aging in their underground wine caves accentuates the wine's character. Every bottle shares AVV's story and each glass brings the special place they call home to yours.
While AVV is well known for their elegant Cabernet Sauvignon, they also produce an array of estate wines including Chardonnay, Merlot, Zinfandel and their premium Cab blend – CYRUS. The secret to the quality and value in their hand-crafted wines starts with their initial property purchase in 1962 and continues with their commitment to their land.
Alexander Valley Vineyard's practices were initially recognized by the California Sustainable Winegrowing Alliance in March 2006 and in 2010 they were recognized as a certified "Sonoma Green Business." Their motto says it all: "Our family creates wines of distinction for everyone!"
While Sonoma County is acclaimed—and rightfully so—for its Chardonnays, Pinot Noirs, and Zinfandels, it also produces exceptional Cabernet Sauvignon. Of the region's 18 American Viticultural Areas, only a handful produce top-notch Cabernet Sauvignon. These appellations include Alexander Valley, Knights Valley, Sonoma Valley and Dry Creek Valley. Sonoma Cabernet Sauvignons made in these appellations can offer a complex array of aromas and flavors. Fruit notes such as blackberry, blackcurrant, cassis, black cherry and raspberry often are accompanied by hints of graphite, dusty earth, cigar box, toast and vanilla. The varietal has a rich history in Sonoma, and some of these Cabernet Sauvignons and Cabernet-based blends rival the best from Napa Valley.
TON2303C_2010
Item#
119825