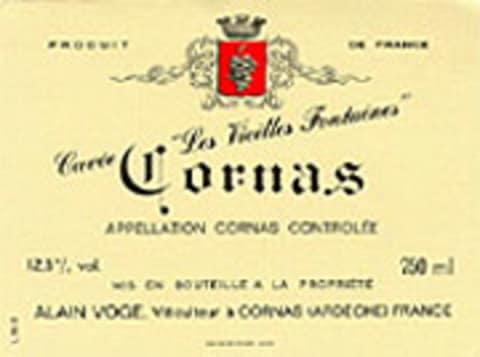 Alain Voge Cornas Vieilles Vignes 2000
Winemaker Notes
"Good medium ruby. Ripe aromas of black fruits and black olive tapenade. Fat, sweet and rich, with lively violet and licorice notes and firm underlying structure. Not hugely fat but fresh and persistent. Late hint of inky licorice. From another barrel: Blueberry and blackberry aroma complicated by a hint of gunflint. Silky and elegant, with good volume and plenty of personality. Should make a very good 2000."
-
IWC
"The tightly-knit, inky/purple-colored 2000 Cornas Vieilles Vignes reveals sweet aromas of liquid stones, white flowers, blackberries, and cassis with a hint of wood in the background. This offering admirably reveals the appellation's terroir. Well-endowed and muscular with abundant tannin, this pure, impeccably made Cornas will be at its finest between 2006-2014."
-Wine Advocate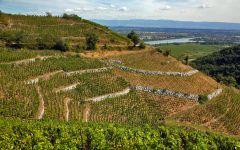 Since its inception, several generations ago, Domaine Alain Voge has always been a family domain located in Cornas. In 1958, Alain Voge joined his father to work on the small typical farm. He decided to specialise in wine.
At the time, it was an audacious decision: despite their history, the Cornas and Saint Peray appellations were forgotten sleeping beauties. Very quickly, he extended the vineyards in places which had remained uncultivated over the last 30 years and developed the sales of his bottled wines. Supported by his wife Eliane, he visited the best national and regional restaurants to make his wines known.
Thanks to their quality and to Alain Voge's creative approach, the domain's reputation has rapidly increased. Yesterday, as today and tomorrow, our philosophy is to practice a hand made viticulture on the slopes of the Rhône right bank, dedicated to Syrah and Marsanne. Our wines are the expression of their terroir, for the pleasure of lovers, all over the world.
JACA_WWH357CVV02_2000
Item#
61887