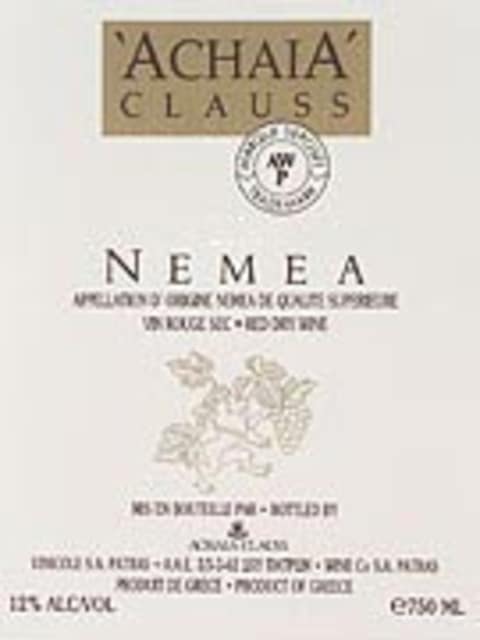 Winemaker Notes
A smooth and elegant red made from Agiorgitiko grapes and aged in oak for at least twelve months. Its deep red colour, hints of spice, and well balanced tannins suggest reasons for its traditional name: "Hercules' Blood".
Achaia Clauss Wine Co. was founded by Gustav Clauss, a native Bavarian, who in 1854 decided to settle in Patras after a business trip to the region. He was so enthused with the beauty of Greece's natural landscape, especially of Patras, Achaia, which is located in the northwest Peloponnese. Hence, he built a castle and within its walls he made a wine factory." His first wine was Mavrodaphne, a transplant from the Ioanian Islands. It has been said that it was his Iberian approach to vinification and love for sweet wine that made Mavrodaphne a successful crop in the region and subsequently, an appellation wine. Mavrodaphne and Muscat of Patras were first produced in 1854 for himself and friends. While the winery was built in 1861, it was not until 1873 that he introduced Mavrodaphne and Muscat in cork finished bottles. In 1880, Demestica was introduced from the village of Demestiha. In 1901, Demestica became the first bottled dry wine of Greece.
Today, the Achaia Clauss Wine Co. is one of the largest wineries in Greece and the largest exporter of cork-sealed Greek wine exporting to forty-two countries. Its portfolio includes thirty-two wines and four spirits ranging from young, refreshing wines to boutique style wines with depth and richness.
A picturesque Mediterranean nation with a rich wine culture dating back to ancient times, Greece has so much more to offer than just retsina. Between the mainland and the country's many islands, a wealth of Greek wine styles exists, made mostly from Greece's plentiful indigenous varieties. After centuries of adversity after Ottoman rule, the modern Greek wine industry took off in the late 20th century with an influx of newly trained winemakers and investments in winemaking technology.
The climate—generally hot Mediterranean—can vary a bit with latitude and elevation, and is mostly moderated by cool maritime breezes. Drought can be an issue for Greek wine during the long, dry summers, sometimes necessitating irrigation.
Over 300 indigenous grapes have been identified throughout Greece, and though not all of them are suitable for wine production, future decades will likely see a significant revival and refinement of many of these native Greek wine varieties. Assyrtiko, the crisp, saline Greek wine variety of the island of Santorini, is one of the most important and popular white wine varieties, alongside Roditis, Robola, Moschofilero, and Malagousia. Muscat is also widely grown for both sweet and dry wines. Prominent red wine varieties include full-bodied and fruity Agiorghitiko, native to Nemea; Macedonia's savory, tannic Xinomavro; and Mavrodaphne, used commonly to produce a Port-like fortified wine in the Peloponnese.
With hundreds of red grape varieties to choose from, winemakers have the freedom to create a virtually endless assortment of blended red wines. In many European regions, strict laws are in place determining the set of varieties that may be used, but in the New World, experimentation is permitted and encouraged resulting in a wide variety of red wine styles. Blending can be utilized to enhance balance or create complexity, lending different layers of flavors and aromas. For example, a red wine blend variety that creates a fruity and full-bodied wine would do well combined with one that is naturally high in acidity and tannins. Sometimes small amounts of a particular variety are added to boost color or aromatics. Blending can take place before or after fermentation, with the latter, more popular option giving more control to the winemaker over the final qualities of the wine.
How to Serve Red Wine
A common piece of advice is to serve red wine at "room temperature," but this suggestion is imprecise. After all, room temperature in January is likely to be quite different than in August, even considering the possible effect of central heating and air conditioning systems. The proper temperature to aim for is 55° F to 60° F for lighter-bodied reds and 60° F to 65° F for fuller-bodied wines.
How Long Does Red Wine Last?
Once opened and re-corked, a bottle stored in a cool, dark environment (like your fridge) will stay fresh and nicely drinkable for a day or two. There are products available that can extend that period by a couple of days. As for unopened bottles, optimal storage means keeping them on their sides in a moderately humid environment at about 57° F. Red wines stored in this manner will stay good – and possibly improve – for anywhere from one year to multiple decades. Assessing how long to hold on to a bottle is a complicated science. If you are planning long-term storage of your reds, seek the advice of a wine professional.