Absolut Elyx Single Estate Handcrafted Vodka
Out of Stock

(was $29.99)
Distiller Notes
Absolut Elyx is manually distilled in a 1921 copper rectification still known as Column 51, made entirely of copper. It is operated by a selected few who inherited their knowledge and expertise from past generations of spirit and vodka makers. Our silky textured vodka is a result of the single estate wheat, the manual operation, and the old copper catalyzation process. The copper naturally catalyzes trace compounds in the spirit, purifying the vodka and adding a highly prized silky texture and taste.
Proof: 84.6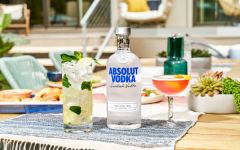 Absolut Vodka is one of the most famous vodkas in the world. It is a Swedish vodka made exclusively from natural ingredients, with no added sugar and made from water and winter wheat grown in the fields of Åhus, Sweden.
Absolut is rich, full bodied and blends beautifully with other aromas, enhancing the taste of your drinks and cocktails. Absolut Vodka has completely redefined the premium vodka landscape, becoming synonymous with art, culture and nightlife. By starting a revolution in cocktail creation and launching a range of flavors never before seen on the market, Absolut has become an icon in its own right. It has been produced at the famous old distilleries near Ahus in accordance with more than 400 years of Swedish tradition.
In 1879, Lars Olsson Smith, its founder, introduced the continuous distillation with which he made Absolut. Instead of the usual three or four times, the vodka was distilled an infinite number of times. At Absolut, not only do they source all the ingredients locally, they have also made their distillery one of the most energy-efficient in the world. Today, Absolut has a CO2 neutral distillery.
Made from the distillation of anything containing fermentable sugars, Straight Vodka is a clear and unaged spirit. Cereal grains like wheat, rye and barley are the most commonly used bases, but modern Vodkas are now made from crops as diverse as sugar beets, grapes and potatoes. Ideally Straight Vodkas should be colorless, odorless and flavorless. They are sipped chilled and neat, or used as a base for a variety of cocktails, from the Martini to the Cosmopolitan.