Winemaker Notes
Bright golden with soft yellow straw highlights. The sublime nose walks a taut line between the Old World mineral driven aromatics (talc, wet stones, chalk) and New World fruit (melons, nectarines, tangerine, and white grapes overlaid with honey, lime blossoms, and hazelnuts).
An intense, unctuous attack leads to a balanced and succulent mid-palate. The wine's richness and weight is held in place and balanced by crisp ripe acidity that gives focus and integrity to the wine. The long finish finally ends with a strong mineral and honeyed presence. The 2006 A to Z Pinot Blanc highlights the power and poise of the 2006 Oregon white wine vintage.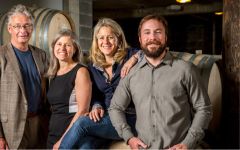 A to Z Wineworks was established in 2002 by four Oregon wine industry veterans to consistently offer quality wines that capture the Essence of Oregon. Five times named a 'Best for the World' B Corp, A to Z's commitment to excellence is matched by a belief in fair value and sustainability in business as well as farming. Recognition for A to Z wines as offering dependable quality for great value continues today, making A to Z the top-selling Oregon wine brand.