Winemaker Notes
A to Z Wineworks is the leading negociant-style wine producer in Oregon. The conception of four of Oregon's most seasoned wine professionals, A to Z Wineworks has established a new price/quality benchmark in the marketplace by selectively blending premium lots sourced from Oregon's leading wineries. The result is value wines that fully express the essence of Oregon in general and the vintage in particular.
The Pinot Blanc is unusually rich and complex for the varietal with focused flavors of peach and honeysuckle.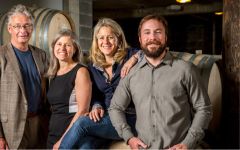 A to Z Wineworks was established in 2002 by four Oregon wine industry veterans to consistently offer quality wines that capture the Essence of Oregon. Five times named a 'Best for the World' B Corp, A to Z's commitment to excellence is matched by a belief in fair value and sustainability in business as well as farming. Recognition for A to Z wines as offering dependable quality for great value continues today, making A to Z the top-selling Oregon wine brand.