21 Seeds Grapefruit Hibiscus Blanco Tequila
Out of Stock

(was $31.99)
Distiller Notes
Grapefruit Hibiscus Blanco Tequila is all-natural and actually infused with real fruit and botanicals. Our Grapefruit Hibiscus is citrus-forward without being sugary. An easy to use tequila that smells like fresh grapefruits.
Enjoy it on the rocks, in a lower calorie cocktail like 21 Seeds + Soda, or a low-calorie Paloma without sacrificing on taste.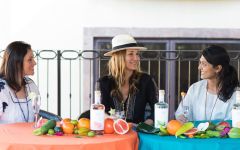 21Seeds is an award-winning, all-natural, real fruit-infused tequila founded by 2 sisters and 1 girlfriend who were looking to make a tequila that was as approachable as a glass of wine. They partnered with the most celebrated female-owned distillery in Jalisco, Mexico, to develop an ultra-smooth Blanco, infused with the ripest and juiciest fruits, resulting in an easy to use, perfectly balanced tequila.
21Seeds is created by slow-cooking and fermenting a proprietary blend of agaves from the lowland and highland regions of Jalisco. It is then double distilled and cold-filtered, creating a perfect Blanco that allows the fruit infusion to take center stage.
21Seeds infused tequilas are exceptionally smooth, smell incredibly fresh - with a hint of flavor. Enjoy 21Seeds on the rocks, as a spritz, or a low-calorie cocktail without sacrificing on taste.
Tequila Blanco, or 'white Tequila', is also known as Tequila Plata, or 'silver Tequila'. Its clear color is the result of being bottled immediately after distillation instead of being aged in oak barrels like Tequila Reposado or Anejo. Because of their youth and lack of barrel influence, Blanco Tequilas are thought to offer the purest expression of blue agave available, with notes of citrus and pepper. However, they can also be quite forceful and energetic on the palate without the moderating influence of time and wood.