Winemaker Notes
This harmonious and delicate sparkler shows strawberry notes in the nose and on the palate. The initial impression is dry but ends with a soft and fruity aftertaste.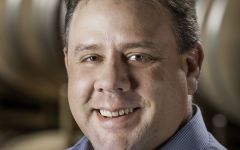 The inspiration for 14 Hands wines recalls a time when wild mustangs once freely roamed the hills of eastern Washington State. These small horses, measuring a scant 14 hands high - a "hand" being equivalent to a man's palm width and how horses were measured then - would travel down from the hills every day to drink from the mighty Columbia River and graze upon the luscious waist high grasses along the riverbank, and then retreat back up into the hills to cool off at night. Strong and tenacious, these little horses became known for their endurance and were revered around the world.
This unique and beautiful landscape that gave these unbridled horses their spirit and tenacity now feeds our vines. With loamy-sand and gravel soils, these hills require a strong and determined grapevine, and our 14 Hands vines revel in this unique and world class terroir. With the fruit from these tenacious vines, 14 Hands wines are handcrafted into big, bold, juicy fruit forward reds and crisp, fruit forward white wines that are laced with the unbridled spirit and legend of the region.
14 Hands celebrates the spirit of these wild horses, and the rich and unique history of Washington wines not only in our wines, but also in the vibrant colors and images on our popular varietal labels and our new Hot to Trot red and white blend wines. Whether you enjoy 14 Hands by the glass in your favorite restaurant, or share a bottle with family or friends, our wines are the quintessential Washington wine experience – fruit-forward, easily enjoyable with any meal or on any occasion, and delivering a superb value for the price. Bringing this bottle of wine to the party is more than bringing just a wine – it's a delicious wine with a unique story that's sure to spark up a memorable conversation.
As the first recognized wine-growing region in the Pacific Northwest, Yakima Valley is centrally located within Washington's vast Columbia Valley. The region also includes Washington's oldest Cabernet Sauvignon vines, Otis Vineyard, planted in 1957, and Harrison Hill Vineyard, planted in 1963. Yakima Valley contains three smaller sub-regions: Rattlesnake Hills, Red Mountain, and Snipes Mountain and is ideal for both red and white wine production. In fact, Yakima Valley is Washington's most diverse region, boasting more than 40 different grape varieties over about one hundred miles.
The cooler parts of the valley are home to almost half of the Chardonnay and Riesling produced in the state! Both are made in a wide range of styles depending on the conditions of the vineyard site.
But its warmer locations yield a large proportion of Washington's best Merlot, Syrah and Cabernet Sauvignon. The finest Yakima Valley reds are jam-packed full of red cherry, currant, raspberry or blackberry fruit, as well as cocoa, herb, spice and savory notes, and exhibit a supple texture, great body, focus and length.
A term typically reserved for Champagne and Sparkling Wines, non-vintage or simply "NV" on a label indicates a blend of finished wines from different vintages (years of harvest). To make non-vintage Champagne, typically the current year's harvest (in other words, the current vintage) forms the base of the blend. Finished wines from previous years, called "vins de reserve" are blended in at approximately 10-50% of the total volume in order to achieve the flavor, complexity, body and acidity for the desired house style. A tiny proportion of Champagnes are made from a single vintage.
There are also some very large production still wines that may not claim one particular vintage. This would be at the discretion of the winemaker's goals for character of the final wine.