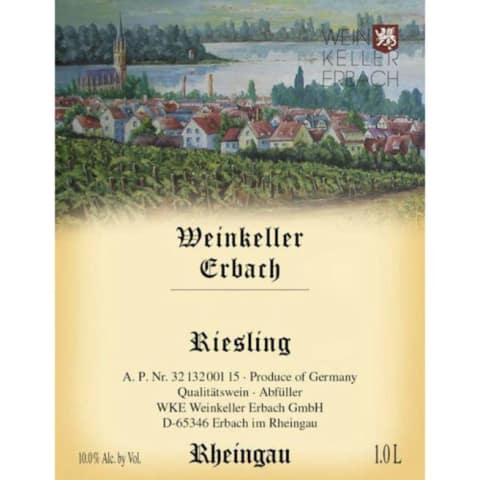 Weinkeller Von Erbach Rheingau Riesling (1 Liter) 2016
Winemaker Notes
Round and refreshing wine with light touches of lemon and lime on the nose. Slightly sweet mouthfeel, with juicy and fruity flavors.
Winzer Von Erbach is well known for an excellent price-quality relation. We prefer a fruity and acidity-reduced modern Riesling style. Our aim is to produce the best possible wine by using the best know techniques even if it cost a little more to do so. This does not mean we are insensitive to price-constraints in the marketplace. We just believe that high quality is worth it in the long run.
In the vineyards our vintners create the foundations for a healthy, high quality grape harvest by using a minimum cut. It has been said many times that great wine is made in the vineyard, we believe that too - but you also need to use the best technical equipment and a reliable, creative cellar master with experience to get a perfect result. In the Riesling Region it is important to cultivate this noble type of wine in the classic way while also integrating modern ideas and techniques. Once the grapes are in the winery, the aim is to preserve, and if possible, enhance the natural aroma and flavor of our fruity and worldwide unique Riesling.
Practically one long and bucolic hillside along the northern bank of the Rhein River, the Rheingau stretches the entirety of the river's east to west spread from Hocheim to Rüdesheim.
Variations in elevation, soil types, and proximity to the Rhine cause great diversity in Rheingau Riesling. Some of the better Rieslings in warmer years come from the cooler and breezier sites at higher elevations. In cooler years, sites closer to the river may perform better.
In the village of Rüdesheim, slopes are steep and soils are stony slate with quartzite; Rieslings are rich and spicy, intense in stone fruit and show depth and character with age. World class Rieslings come from farther east on the river through Geisenheim, Johannisberg, Winkel, Oestrich and past Erbach as well, where soils of loess, sand, and marl alternate. Long-living, floral-driven and mineral-rich Rieslings come from the best of these sites.
Rheingau growers became early activists in promoting the dry style of Riesling, low yields and the classification of top vineyards, or Erstes Gewächs (first growths). Proximity to the metropolitan markets of Mainz, Wiesbaden, and Frankfurt keeps Rheingau in high reputation. While dry wines are the style here, Rheingau isn't short of some amazing Auslesen, Beerenauslesen, and Trockenbeerenauslesen.
Rheingau doesn't mess with many other grapes—in fact 79% of its total area is dedicated to Riesling. But it produces some fine Pinot noir, especially concentrated in Assmannshausen, a bit farther west from Rüdesheim.
Riesling possesses a remarkable ability to reflect the character of wherever it is grown while still maintaining its identity. A regal variety of incredible purity and precision, this versatile grape can be just as enjoyable dry or sweet, young or old, still or sparkling and can age longer than nearly any other white variety. Somm Secret—Given how difficult it is to discern the level of sweetness in a Riesling from the label, here are some clues to find the dry ones. First, look for the world "trocken." ("Halbtrocken" or "feinherb" mean off-dry.) Also a higher abv usually indicates a drier Riesling.
AUT16WEINKERRIES_2016
Item#
370024