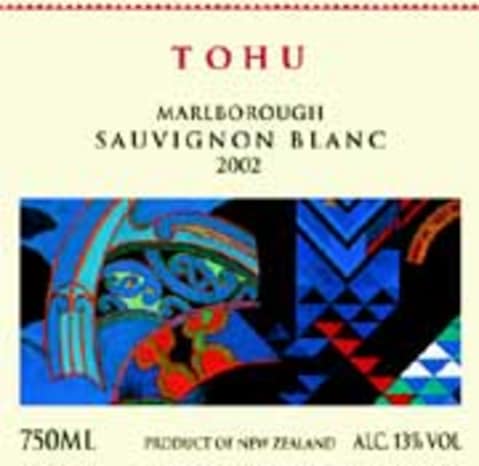 Tohu Sauvignon Blanc 2002
Winemaker Notes
This wine is one of several grown by the native peoples of New Zealand, the Maori. All their wines are extremely well made and, in this case, a textbook example of CPGB Marlborough savvy. Full and rich, packed with passionfruit flavors, gently caressed by soft acids.
For centuries Maori, the indigenous people of New Zealand, worked on, lived around and loved the rugged yet fertile lands of their ancestors. There was awareness that the earth was the giver of all life. From the soil came food and that same food was cooked beneath the earth. It was accepted that the people who were born onto that land inherited the right to produce from it and to protect it for the benefit of all. Tohu Wines is the first indigenous branded wine to be produced for the export market. The superb quality blend, taken from the foremost wine growing regions in New Zealand, Marlborough and Gisborne, conveys the care and consideration, experience and understanding that is inherent in all the finest produce gifted from the land. Tohu Wines is one of New Zealand's finest achievements created from a mutual vision of harmony and respect of our people and our place.
Recognized for its distinctively herbaceous and aromatic, Sauvignon Blanc, New Zealand is perfectly suited to the grape with its maritime climate, plenty of rainfall and abundant sunshine. Producers have almost unilaterally embraced cutting-edge winery technology, resulting in clean, high-quality wines at every price point from wallet-friendly to premium. Sauvignon blanc is at its best in Marlborough but thrives throughout as the country. It is New Zealand's most planted and successful variety, also accounting for an overwhelming majority of its exports.
RWC290503_2002
Item#
55494