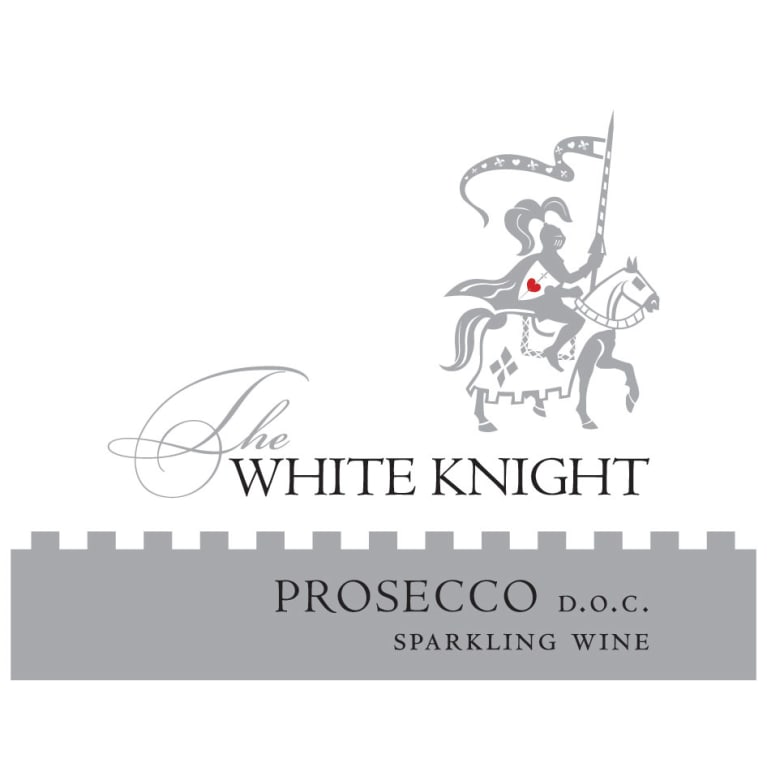 The White Knight Prosecco
Ships today if ordered in next 3 hours
Winemaker Notes
This striking, bubbly wine is irresistible with its fresh yellow hue and pleasing, lasting effervescence. Crisp aromas of acacia flower, apple, white peach and citrus fruit captivate the nose before the palate is satisfied with an avalanche of fresh and delicate flavors that culminate in a tantalizing and memorable ending.
This charming Prosecco is appropriate for simply sipping, serving as an aperitif, or to use as a base to make delicious cocktails. Also appropriate to sip with fresh fruit salad, first courses, smoked salmon and roasted poultry. This bubbly and vivacious wine will pair well with all occasions, planned or spontaneous.
Critical Acclaim
All Vintages
This Treviso-produced Brut sparkler perfumes the air with lemon flowers and honey. Feather-light bubbles turn creamy on first touchdown and an echo of the lemon flowers persists on the palate, washing it with a bright minerality.
View More
Swooping in to rescue the palate from ordinary wines, the sense of adventure of The White Knight is impossible to resist. Clad in shining armor, this charming knight provides a sensual escape from the mundane. Slip away to a secret meadow, take in a vibrant sunset, dance the night away with friends, or sip in the paradise of quiet candlelight.
Special occasions are waiting to happen every day, as they should. Solid and trustworthy,TheWhite Knight is anything but a bore. Stimulating. Striking. Satisfying. The White Knight's engaging wines command attention in the glass, tantalizing the lips before the taste buds fall hard.
One of the world's most popular and playful sparkling wines, Prosecco is a specialty of northeastern Italy, spanning nine provinces of the Veneto and Fruili-Venezia Giulia regions. A higher-quality version of Prosecco wine that must meet more stringent production requirements is known as Prosecco Superiore and must come from the more rugged terrain between the towns of Valdobiaddene and Conegliano. Prosecco can be produced as a still wine, a semi-sparkling wine ("frizzante"), or a fully sparkling wine ("spumante")—the latter being the most common. While Prosecco wine is typically produced in a "brut" (dry) style, its fresh and fruity character makes it seem a bit sweeter than it actually is. "Extra dry" styles, incorporating higher levels of residual sugar, are quite popular, however.
Prosecco wine is made from the Glera grape, which was formerly and confusingly called Prosecco, these wines are notable for pleasant flavors of peach, pear, melon, green apple, and honeysuckle. Lower pressure during the carbonation process (also called the tank method) means that the bubbles are lighter and frothier than in Champagne or other traditional method sparkling wine, and less persistent. Prosecco is also a great choice to blend with orange juice for mimosas for a classic brunch beverage.
A term typically reserved for Champagne and Sparkling Wines, non-vintage or simply "NV" on a label indicates a blend of finished wines from different vintages (years of harvest). To make non-vintage Champagne, typically the current year's harvest (in other words, the current vintage) forms the base of the blend. Finished wines from previous years, called "vins de reserve" are blended in at approximately 10-50% of the total volume in order to achieve the flavor, complexity, body and acidity for the desired house style. A tiny proportion of Champagnes are made from a single vintage.
There are also some very large production still wines that may not claim one particular vintage. This would be at the discretion of the winemaker's goals for character of the final wine.