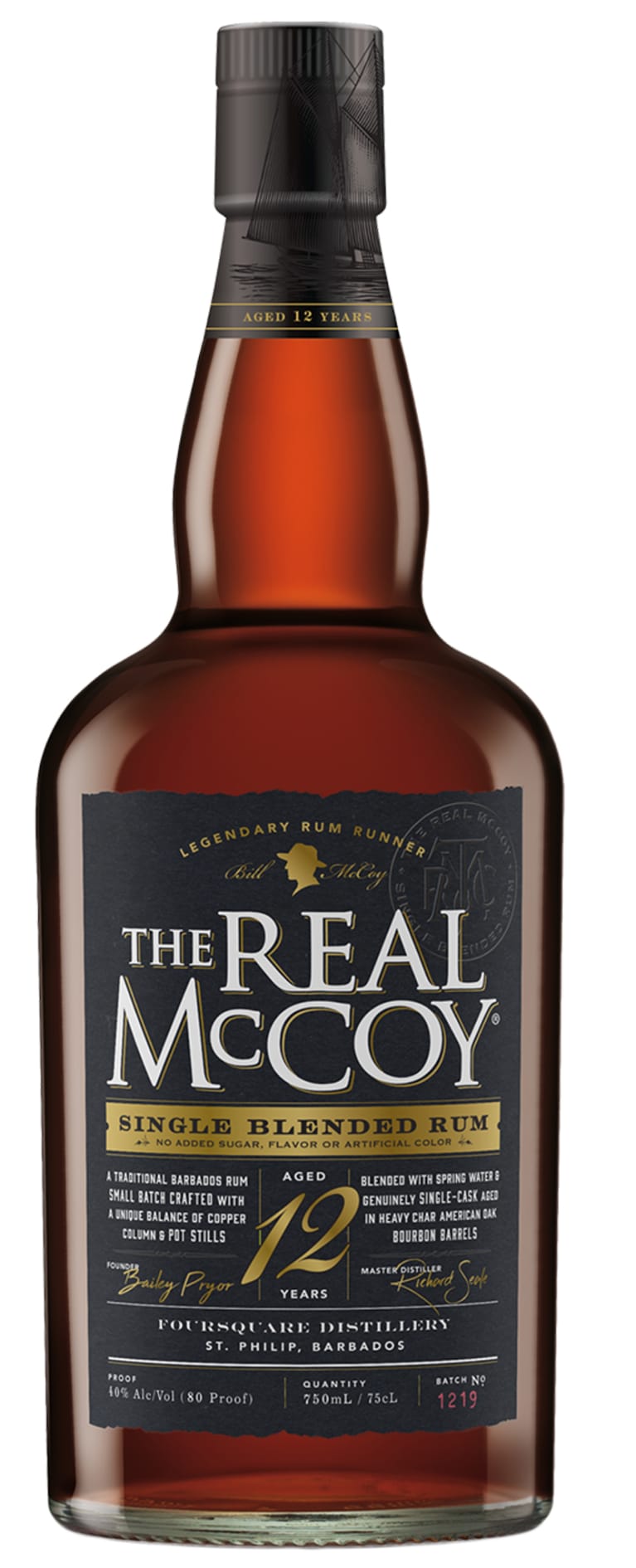 The Real McCoy 12 Year Single Blended Rum
Distiller Notes
This rum is aged for 12 full years in American oak bourbon barrels, rivaling the world's finest spirits.
Exceptionally smooth, mature and balanced with complex wood and spice. The nose has hints of buttery oak, earthy notes, and spicy dark chocolate. The palate has caramel, complex wood and spice notes, orange zest, and a tobacco hint. The finish is soft, structured buttery with peppery spice and a hint smoke.
Critical Acclaim
All Vintages
Caramel and toffee aromas lead the nose, while the soft palate opens with a luscious brown-sugar flavor that's cut with brisk espresso and cocoa tones. It tapers off to a dry leather exhale accented with clove and black pepper. It's ideal as a sipping rum.
shows depth of character from its heady scents of cedar, brandied apricots, and oatmeal. The level of maturity shows itself with a warmth that traverses the palate, adding depth of character with flavors of spiced sandalwood and nutmeg.
View More
This line of premium and super-premium aged rums originates with the story of Bill McCoy, the pioneer Rum Runner of the Prohibition era. In January 1920, McCoy was the first to fill his schooner with alcohol in the Caribbean and sail it up to New York. Anchoring three miles offshore in what was then international waters, McCoy was able to legally act as a floating liquor store to the speakeasies of Manhattan. Others copied McCoy, but they watered down or sullied the alcohol by adding chemicals like turpentine or wood alcohol in what became dubbed "Booze" or "Hooch." McCoy provided only top quality, unadulterated spirit - inspiring his product to be known as "The Real McCoy."
Today, these rums are handcrafted in the Prohibition Tradition - with the same authenticity as the celebrated rum that fueled the Roaring '20s - copper distilled, bourbon barrel aged, no added sugars, flavors or aromatics. The rum rivals the top spirits in the world.  This is the genuine article… It's The Real McCoy.
Often referred to as a Gold Rum, an Aged Rum is one that has been aged in barrels, often Ex-Bourbon or White Oak before bottling. As the Rum continues to age, it draws more and more color and flavor from the wood, adding both body and complexity to the finished product. Aged Rums can be sipped neat or added to cocktails. They fall somewhere in between White and Dark Rums in terms of their respective strength of flavor.