St. Germain Elderflower Liqueur
Out of Stock

(was $34.97)
Ships today if ordered in next 2 hours
Distiller Notes
Double Gold Medal at San Francisco World Spirits Competition 2018
St-Germain Elderflower Liqueur is a sublime liqueur created with wild, handpicked elderflowers and made in the traditional French style, using a process that has existed for centuries. Following an exquisite elderflower liqueur recipe, it is only available in limited quantities. Each bottle of St-Germain is numbered and marked with the vintage year that reflects the year in which the flowers were harvested.
St-Germain Liqueur starts out with the marriage of fresh elderflowers to eau de vie, followed by a unique macerating technique that extracts the delicate flavor of the elderflower. The sublime taste hints at pear, peach and grapefruit creating an extraordinary flavor unknown in other liqueur brands. The crisp melange of flavors are as subtle and delicate as they are captivating.
Critical Acclaim
All Vintages
Handcrafted from a natural extract of elderflower blossoms, this has a floral, juicy pear nose that makes you close your eyes as if you're sniffing a sweet-scented rose. The sumptuous palate serves up a caramel-doused summer peach, and the finish is clean, white petals in a bounty of texture.
View More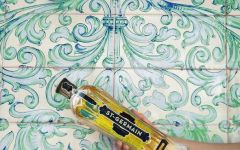 St. Germain is a French liqueur made with fresh elderflowers, hand-picked once a year in the late spring. As the world's first, finely crafted all-natural elderflower liqueur, its flavor is as subtle and delicate as it is captivating, evidenced in its sublime notes of peach, pear, and grapefruit, yet none of them exactly. Perhaps contributing to its elusive reputation is that of French savoir faire—an inconspicuous ingredient that is all at once essential to St~Germain's endless charm.
The exceptional quality and taste of St~Germain is defined by the ephemeral elderflowers used to create it. To accomplish its exquisitely fresh and natural flavor, every bottle of St~Germain contains up to 1,000 of the very best elderflower blossoms, resulting in a finely crafted, perfectly balanced and refined liqueur.
Creating St~Germain is somewhat of a race against time, as there are only a few fleeting weeks every summer when the blossoms' flavor and aroma are at their peak. That is why each bottle is individually numbered to reflect the year in which the flowers were picked—a charming reminder that even the smallest and most delicate opportunities can be nurtured into something beautiful.
First prepared by 13th century Italian monks as herbal medicines and elixirs, Liqueurs are distilled spirits that have been combined with flavoring agents. A range of herbs, spices, nuts, fruits and flowers can be used, and a sweetener such as sugar or corn syrup is often added. While typically rather sweet, some examples are herbaceous or tart and pair exceptionally well with desserts or act as a delightful addition to cocktails.