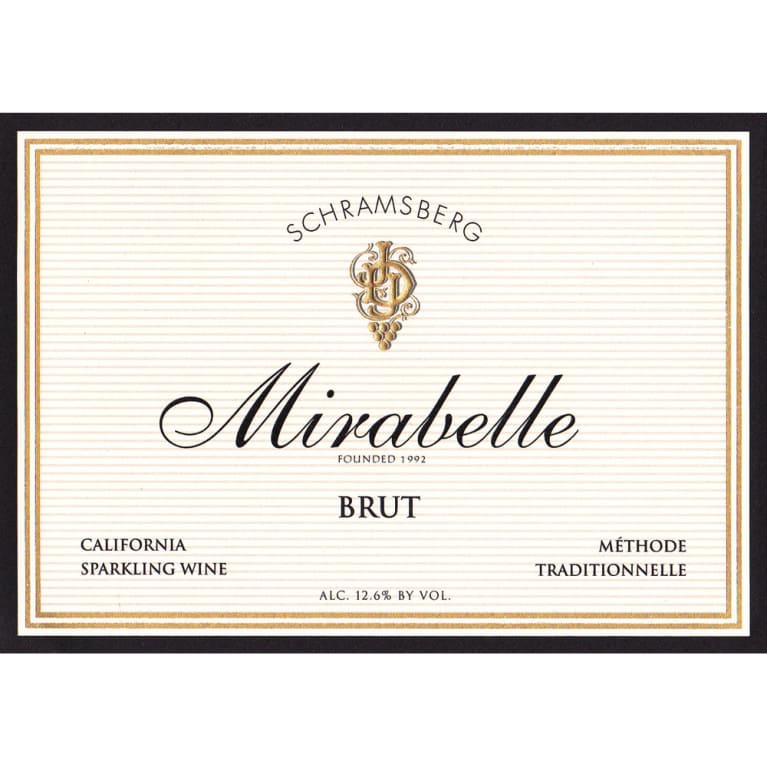 Schramsberg Mirabelle Brut
Ships Fri, Oct 30
Limit
0
bottles
per customer
Winemaker Notes
Stylistically, Mirabelle Brut resembles some of its French cousins with its elegant, toasty aroma which leads into crisp and complex flavors on the palate. It is impossible to mistake Mirabelle's Northern California heritage - the freshness mid-palate continues through to the finish. Mirabelle Brut is a unique blend of hand-harvested bunches of Napa, Sonoma and Mendocino county Pinot Noir and Chardonnay. Mirabelle pairs well with shellfish, light appetizers or hearty, vegetable-based soups.
The non-vintage Mirabelle combines the bright, vibrant fruit of the 2002 vintage with the equally dynamic wines of vintages past. Complete with a green apple and jasmine fragrance, filled out by tropical fruit notes, the aromas merrily greet you from the glass. The bright citrus entry on the palate gives way to subtle honey and caramel, with just a hint of fresh cream to balance the zesty acid. Mirabelle, as ever, demonstrates the illustrious combination of yesterday and today, with age enhancing youth and freshness complimenting the more complex characters.
"Big, buttery aromas of baked apple, lemon curd, nutmeg, malt and bread dough. A whiff of buttered toast leads to balanced flavors of citrus, white flowers and butterscotch. Citrusy, nutty finish refuses to fade."
-Wine News
Hugh Davies, President and Winemaker of Schramsberg, is devoted to carrying on his parent's vision: to create America's premier sparkling wines. Our winemaker's passion for constant refinement of vineyard sources and winemaking techniques is captured in each bottle. The resulting refinements to our original vision are evident each year in our new releases. We invite you to share in this American tradition by enjoying our proudly crafted sparkling wines.
Critical Acclaim
All Vintages
Alluring and nuanced, with expressive pear, brioche and caramelized hazelnut flavors that finish on a rich, polished note. Drink now.
A light touch of sweetness combines with ripe apple and pear flavors to make this full-bodied wine from Schramsberg taste rich and mouth filling. Layers of fruit and light spices spread across the palate and linger on the finish.
View More
Focused on Schramsberg's top Chardonnay barrel and tank lots, and aged for seven years prior to release, J. Schram is the winery's signature Brut sparkling wine. Jack and Jamie Davies revived the historic vineyards and cellars in 1965, with a mission to produce California's first world-class sparkling wines. Today, led by their son Hugh, Schramsberg's team continues with this commitment to quality and innovation. Schramsberg also produces the J. Schram Rose, Reserve, Blanc de Blancs, Blanc de Noirs, Brut Rose, Cremant Demi-Sec and J. Davies Diamond Mountain Cabernet Sauvignon.
Reaching up California's coastline and into its valleys north of San Francisco, the North Coast AVA includes six counties: Marin, Solano, Napa, Sonoma, Mendocino and Lake. While Napa and Sonoma enjoy most of the glory, the rest produce no shortage of quality wines in an intriguing and diverse range of styles.
Climbing up the state's rugged coastline, the chilly Marin County, just above the City and most of Sonoma County, as well as Mendocino County on the far north end of the North Coast successfully grow cool-climate varieties like Pinot Noir, Chardonnay and in some spots, Riesling. Inland Lake County, on the other hand, is considerably warmer, and Cabernet Sauvignon, Zinfandel and Sauvignon Blanc produce some impressive wines with affordable price tags.
A term typically reserved for Champagne and Sparkling Wines, non-vintage or simply "NV" on a label indicates a blend of finished wines from different vintages (years of harvest). To make non-vintage Champagne, typically the current year's harvest (in other words, the current vintage) forms the base of the blend. Finished wines from previous years, called "vins de reserve" are blended in at approximately 10-50% of the total volume in order to achieve the flavor, complexity, body and acidity for the desired house style. A tiny proportion of Champagnes are made from a single vintage.
There are also some very large production still wines that may not claim one particular vintage. This would be at the discretion of the winemaker's goals for character of the final wine.