Santo Spirits Fino Tequila Blanco
Out of Stock

(was $47.97)
Distiller Notes
Santo Tequila Blanco is made from only the finest 100% Blue Weber Agave from the highlands of Jalisco, Mexico. To the pure, all things are pure.
This tequila blanco is smooth, with balanced and notable agave. Full and complex notes in taste are complimented by earthy, white pepper and citrus aromas. Delicate spice and floral flavors add to the intensity of the agave. An old world style tequila, worthy if the decades-old ritual; a pinch of sea salt, balanced with a slice of Mexican lime.
Critical Acclaim
All Vintages
Soft agave nose; clean, creamy, and mellow with balance, spice, and a nice bite at the finish. Another winner from rocker Sammy Hagar—make your Margaritas with this stuff.
View More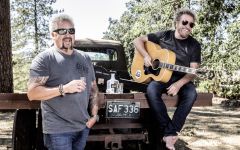 When Sammy Hagar gets together with friends in Cabo San Lucas you never know what's coming next. So begins the history behind Santo's Tequila Blanco and Mezquila - both borne out of good friends, great food, a lot of tequila and the search for a taste revelation: "a higher spirit."
Together, rocker Sammy Hagar and chef Guy Fieri found their virtuoso with Juan Eduardo Nuñez, the third-generation master distiller from the famed distillery El Viejito, founded in 1937, in the highlands of Jalisco, Mexico.
Sammy's history of making world-renowned tequila, Guy's world-famous taste buds, and Juan Eduardo's award-winning craftsmanship, bring to life the portfolio of Santo spirits; a sinfully smooth old world style tequila blanco, and the world's first mezquila.
Tequila Blanco, or 'white Tequila', is also known as Tequila Plata, or 'silver Tequila'. Its clear color is the result of being bottled immediately after distillation instead of being aged in oak barrels like Tequila Reposado or Anejo. Because of their youth and lack of barrel influence, Blanco Tequilas are thought to offer the purest expression of blue agave available, with notes of citrus and pepper. However, they can also be quite forceful and energetic on the palate without the moderating influence of time and wood.