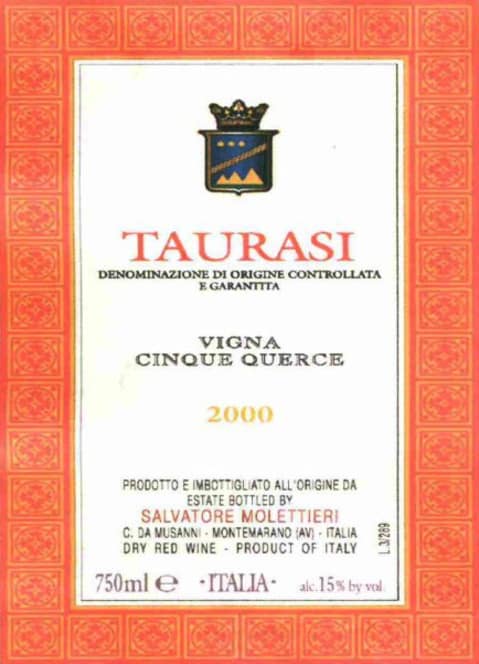 Salvatore Molettieri Taurasi Vigna Cinque Querce 2000
The Azienda Vitivinicola Salvatore Molettieri was established in 1983, giving an entrepreneurial dignity to a farming, viticultural and wine making tradition that goes back intime for at least four generations. The work in the ancient family vineyards and thirty years of experience at the estate are part of the knowledge of Salvatore, vigneron and wine maker and, thanks to this, the estate now has an important position on the national and international markets. The vineyards extend for 13 hectares and they stand at 500-600 meters above sea level on the hills of Montemarano, one of the seventeen small towns which are part of the Taurasi DOCG appellation. This area, the soils of which are clayey-calcareous, has an excellent exposure and it is ideal for viticulture and wine making and in particular for the production of Irpinia DOC Aglianico, Irpinia DOC Campi Taurasini, Irpinia DOC Rosso, Taurasi e Taurasi Riserva DOCG and for the production of the white wines Fiano di Avellino DOCG and Greco di Tufo DOCG.
A winemaking renaissance is underfoot in Campania as more and more small, artisan and family-run wineries redefine their style with vineyard improvements and cellar upgrades. The region boasts a cool Mediterranean climate with extreme coastal, as well as high elevation mountain terroirs. It is cooler than one might expect in Campania; the region usually sees some of the last harvest dates in Italy.
Just south of Mount Vesuvio, the volcanic and sandy soils create aromatic and fresh reds based on Piedirosso and whites, made from Coda di Volpe and Falanghina. Both reds and whites go by the name, Lacryma Christi, meaning the "tears of Christ." South of Mount Vesuvio, along the Amalfi Coast, the white varieties of Falanghina and Biancolella make fresh, flirty, mineral-driven whites, and the red Piedirosso and Sciasinoso vines, which cling to steeply terraced coastlines, make snappy and ripe red wines.
Farther inland, as hills become mountains, the limestone soil of Irpinia supports the whites Fiano di Avellino, Falanghina and Greco di Tufo as well as the most-respected red of the south, Aglianico. Here the best and most age-worthy examples come from Taurasi.
Farther north and inland near the city of Benevento, the Taburno region also produces Aglianico of note—called Aglianico del Taburno—on alluvial soils. While not boasting the same heft as Taurasi, these are also reliable components of any cellar.
Beyond the usual suspects, there are hundreds of red grape varieties grown throughout the world. Some are indigenous specialties capable of producing excellent single varietal wines, while others are better suited for use as blending grapes. Each has its own distinct viticultural characteristics, as well as aroma and flavor profiles, offering much to be discovered by the curious wine lover. In particular, Portugal and Italy are known for having a multitude of unique varieties but they can really be found in any region.
ZZZREFPRODUCT387469
Item#
387469