Ridgeview Wine Estate Knightsbridge Blanc de Noirs Brut 2013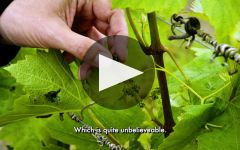 The preeminent producer of English sparkling wine, Ridgeview Wine Estate was established in 1995 by Mike and Christine Roberts. The estate is located 40 miles south of London, at the base of the chalky South Downs, in the county of East Sussex.
From concept to inception, Ridgeview were determined to produce only sparkling wines, using traditional methods and varietals, with quality being the top priority.
For the past 24 years, Ridgeview has been the dominant influencer in the rise of English sparkling wine production. Ridgeview's belief from onset that England was capable of producing world-class sparkling wines has been unwavering in their strive to achieve just that.
Throughout their impressive history, Ridgeview has won multiple awards and trophies in both national and international competition. Ridgeview is the only non-Champagne ever to win the Decanter award for "Best Sparkling wine in the World", and the only English winery in history to win the Prestigious IWSC "International Winemaker of the Year" in 2018.
Today, the winery is run by second generation Tamara and Simon Roberts, Tamara as CEO, and Simon as winemaker. Following in their parent's footsteps, and honouring the original vision, Ridgeview represents the best of England.
The limestone soils of England's southern end have proven ideal for the production of British sparkling wine. While it might seem too damp and cold for grape growing in England, recent warm summers and the onset of global warming signify great future growth for the British wine industry.
With hundreds of red grape varieties to choose from, winemakers have the freedom to create a virtually endless assortment of blended red wines. In many European regions, strict laws are in place determining the set of varieties that may be used, but in the New World, experimentation is permitted and encouraged resulting in a wide variety of red wine styles. Blending can be utilized to enhance balance or create complexity, lending different layers of flavors and aromas. For example, a red wine blend variety that creates a fruity and full-bodied wine would do well combined with one that is naturally high in acidity and tannins. Sometimes small amounts of a particular variety are added to boost color or aromatics. Blending can take place before or after fermentation, with the latter, more popular option giving more control to the winemaker over the final qualities of the wine.
How to Serve Red Wine
A common piece of advice is to serve red wine at "room temperature," but this suggestion is imprecise. After all, room temperature in January is likely to be quite different than in August, even considering the possible effect of central heating and air conditioning systems. The proper temperature to aim for is 55° F to 60° F for lighter-bodied reds and 60° F to 65° F for fuller-bodied wines.
How Long Does Red Wine Last?
Once opened and re-corked, a bottle stored in a cool, dark environment (like your fridge) will stay fresh and nicely drinkable for a day or two. There are products available that can extend that period by a couple of days. As for unopened bottles, optimal storage means keeping them on their sides in a moderately humid environment at about 57° F. Red wines stored in this manner will stay good – and possibly improve – for anywhere from one year to multiple decades. Assessing how long to hold on to a bottle is a complicated science. If you are planning long-term storage of your reds, seek the advice of a wine professional.
ZZZREFPRODUCT250701
Item#
250701