Riazul Reposado Tequila
Out of Stock

(was $59.97)
Distiller Notes
2015 San Francisco World Spirits Gold Medal Winner
Riazul Reposado made its debut into the family in September of 2009, and stands out from others in its age category. The wonderful taste of agave remains strong and is complimented by flavors brought out during the fermentation, distillation and aging process. This Reposado is aged 9 months in French and American oak barrels, honoring the refinement of traditional Reposado, while adding a unique touch to its subtle complexity. On the palate, soft and satiny with a very smooth dry-yet-fruity medium to full body.
Critical Acclaim
All Vintages
The enchanting aroma mixes fruit, honey and jalapeño pepper. This Tequila shows lots of peppery spice but it's tempered by vanilla and white-chocolate sweetness on the long finish. Although it feels a bit hot for easy sipping, it still has finesse. Aged nine months in American and French oak barrels.
View More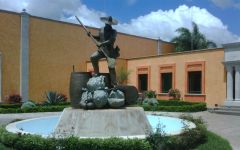 Riazul was founded in the desert Highlands of Jalisco, Mexico on the land that was handed down from generation to generation for more that 200 years. That is where Inaki Orozco, the founder of Riazul, hand planted the Blue Agave with the permission of his family-elders.
The unique terroir, with its virgin volcanic soils and the area's harshest micro climate, produces Agave unlike anywhere else in Jalisco. Riazul is truly a unique sipping experience.
Tequila Reposado refers to Tequilas that have been 'rested', or aged, in oak barrels for a minimum of two months but not more than one year. Depending on the specific flavors a tequilero wishes to impart on the spirit, a variety of different barrels may be used, from Brandy and Bourbon, to Wine and Sherry. The time spent on the wood allows Reposado Tequilas to mellow as they age, softening and rounding powerful flavor components brought by the agave and marrying them to subtle notes of caramel and vanilla brought by the barrel itself.