Rhum Clement VSOP Agricole Rhum
Distiller Notes
Clément VSOP. Rhum Agricole Vieux is aged a minimum of four years in virgin Limousin barriques and re-charred Bourbon casks. The superb alchemy of natural rum from sugarcane juice matured in a unique variety of the world's finest oak barrels orchestrated by our Cellar Master gives this exceptional aged rum its brilliant mahogany color, roasted cocoa bean aroma and its illustrious smooth mellow character.
Warm caramel, exotic spice, and dried fruit aromas lead into a soft, silky entry with a moderately off-dry body full of coconut and banana creme brulee, nut, and dried fruit flavors. Finishes with a long fade of charred sugarcane, coconut custard, peppery spices and delicate wet minerals. An elegant and exotic treat.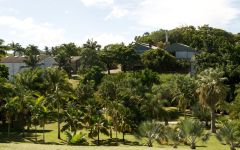 Located in Le Francois, Habitation Clément is the birthplace of Rhum Agricole and carries the culture of an ancient Créole sugarcane plantation rich with French West Indian history, which has been completely refurbished by the Hayot family to remain a Martiniquean cultural icon for centuries.
Formerly known as Domaine de l'Acajou, Habitation Clément welcomes thousands of tourists every year who come to discover old world and new world Créole culture. Many people spend peaceful time touring the botanical gardens or visiting where Rhum Clément has been made for more than 125 years, and no one leaves without a special bottle for their home bar. Recently some of the older structures have been refurbished into galleries and frequent exhibitions of local Caribbean artists are always open for display. Habitation Clément has been a registered French historical land mark since 1996 and has hosted several significant world events and dignitaries. 
Often referred to as a Gold Rum, an Aged Rum is one that has been aged in barrels, often Ex-Bourbon or White Oak before bottling. As the Rum continues to age, it draws more and more color and flavor from the wood, adding both body and complexity to the finished product. Aged Rums can be sipped neat or added to cocktails. They fall somewhere in between White and Dark Rums in terms of their respective strength of flavor.
PBC9037792_0
Item#
530656